Interactive Room Planner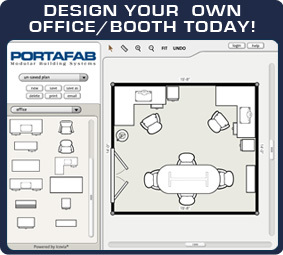 Planning your new modular office space or booth interior is easy and fun with our interactive room planning application. Start by choosing one of our standard buildings or create one with your exact specifications and then outfit it with the appropriate furniture, equipment, and accessories to see what it will actually look like.
Before getting started, please note that this application is provided to help you plan your new space and determine its approximate size. This application and the printouts that it provides should not be considered engineered drawings. It is also important to note that the planner uses inside dimensions. Exterior dimensions on modular offices are 4.5 inches greater than interior dimensions. So a 12 x 12 office actually has exterior dimensions of 12'-4.5" x 12'-4.5".
To help walk you through the basic procedures for designing your new office or booth, we have provided both a Quick Start Guide and a PDF of the User's Manual. You can also utilize the Help feature within the Room Planning application for more information.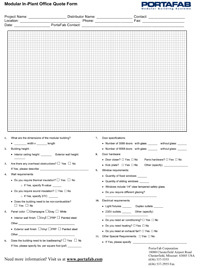 You can also download our Modular In-Plant Office Quote Form to send in a sketch of your plan and identify the specifications.