PortaFab's Storage Lockers provide durable, secure storage solutions that are uniform in appearance while also providing privacy for the user of each locker. These reinforced lockers are ideal for a variety of applications including tenant lockers, employee lockers, dormitory lockers, first responder lockers, equipment lockers, and more.
Steel vs. Wire Mesh Storage Lockers
Building with PortaFab's modular wall systems provides a number of benefits over wire storage lockers.
Total Privacy
Wire storage lockers lack privacy and show clutter.
Enhanced Security
Wire storage lockers can easily be tampered with.
Enhanced Climate Control
Wire and sheet metal storage lockers have no thermal properties.
Custom Options
Wire storage lockers often don't allow for size, panel, ceiling, door, and lock options.
Secured Storage Enclosures
Our secure enclosures can be arranged in a variety of configurations. Walls can extend from the floor to ceiling or utilize existing walls, eliminating the need for a back locker panel. Storage lockers can be installed quickly and cleanly, requiring minimal on-site finishing. When your needs change, you can easily add additional lockers or relocate existing lockers.
Storage Lockers can be built to a range of sizes, including 3'x7', 6'x'7, as well as custom sizes that can range from heights of 7' to 12' or greater depending upon the need of the application. PortaFab also provides additional wall panel options that include Vinyl, Reinforced Plastic, and additional options that can be used for a variety of applications and industries.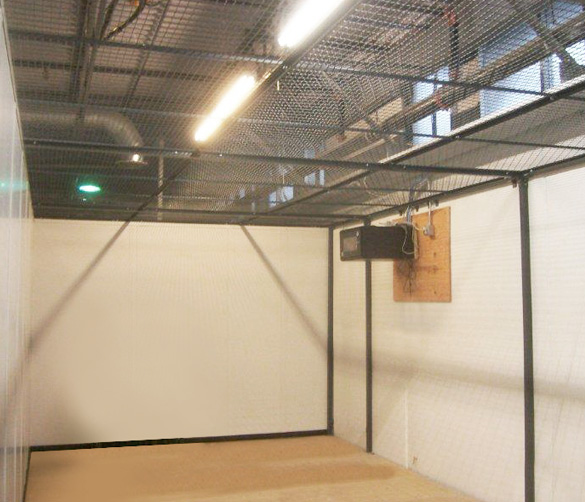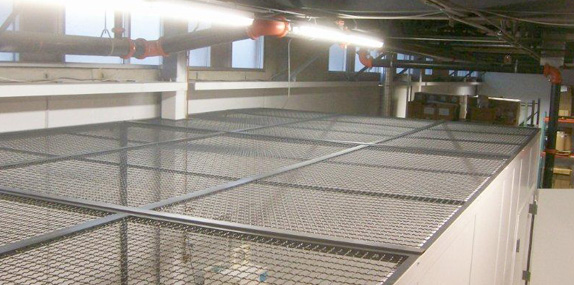 Roof & Ceiling Options
PortaFab's storage lockers are available as freestanding partitions with or without a ceiling, depending on your needs. Lockers can be completely sealed off by placing a wire mesh ceiling on top, which provides added security and ventilation as well as light and sprinkler penetration.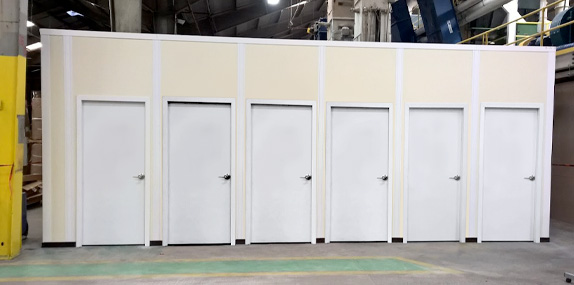 Consistent Appearance
PortaFab's storage lockers ensure that stored items remain safely concealed from view and uniform in appearance. Each storage locker is faced with a 24-gauge steel sheet that resists damage and wear while providing a durable, protective facing for the locker. These steel panels come standard in gray or white, and our in-house paint operation can provide custom colors (minimums and additional charges may apply).
Photo Gallery