By providing a clean and organized space for personal protective equipment (PPE) storage and use, gown rooms can help to ensure the safety and well-being of workers, as well as protect the facility from contamination or exposure.
Gowning Room Design
Gown rooms or environmentally controlled changing areas are essential for cleanrooms that must meet more stringent air quality guidelines. These rooms are typically equipped with lockers or storage areas for PPE, as well as sinks, hand sanitizer stations, and other amenities to help workers maintain good hygiene.
By providing a dedicated space for PPE storage and use, gown rooms can help to prevent the spread of germs or other contaminants between different areas of a facility. Additionally, gown rooms can help to ensure that workers have the necessary equipment to safely handle hazardous materials.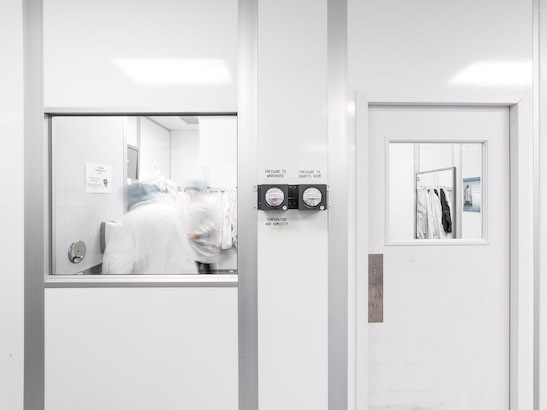 Gown Room Photo Gallery
Gown rooms are typically found in laboratories, manufacturing facilities, and other settings that either require stringent environmental control or where workers may be exposed to hazardous materials.
Over 40 Years of Experience
Read case studies, view photos and learn about some of the applications we have provided solutions for in the past 40 years.

Nationwide Service & Install
700+ Certified Distributors
For over 40 years, PortaFab has provided turn-key cleanroom design and installation services for major corporations worldwide. Our staff of engineers and cleanroom design consultants are an asset to architects and general contractors who lean on us to deliver functional and cost effective solutions.