Achieve USP 800 Compliance with PortaFab Cleanroom Systems
In March of 2014 USP (United States Pharmacopeial Convention) proposed new general chapter <800>, also referred to as USP 800. This new chapter applies to all personnel that compound hazardous drug preparations, as well as all places where hazardous drugs are prepared, stored, transported and administered in order to protect healthcare workers, patients and the environment.
Sterile & Non-Sterile Compounding
Unlike USP 797, which only applies to sterile compounding preparations, the new USP 800 regulation applies to both sterile and non-sterile compounding preparations. View more comparisons between USP 797 and USP 800 via the table here.
General Chapter <800> was published in the May/June issue of Pharmacopeial Forum. It can also be viewed in the USP website.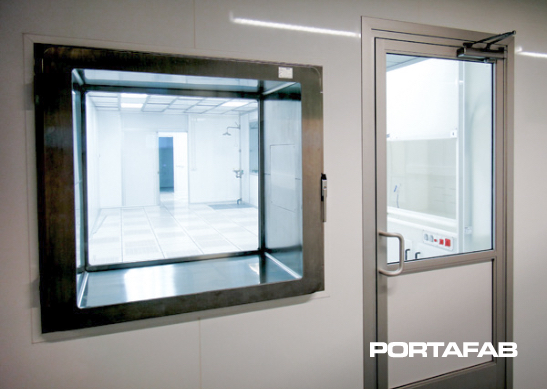 `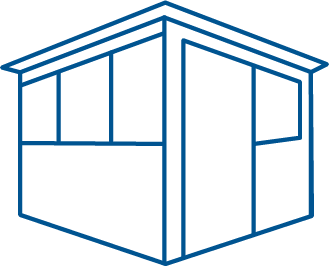 USP 800 Cleanrooms
Control Airflow, Temperature, Humidity & More
Protect your personnel with a safer environment to handle chemotherapy medications and other hazardous drugs by achieving USP 800 compliance with PortaFab's modular cleanroom systems.
Our cleanroom wall systems are available in a wide-range of panel finishes including non-porous and non-shedding surfaces that will not harbor dirt or other contaminants and can withstand various cleaning processes in accordance with USP 800 compliance.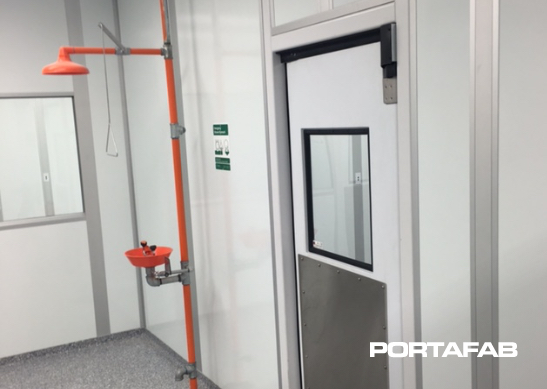 In addition, PortaFab offers a wide range of interchangeable modular cleanroom components that can be utilized to improve the overall integrity of the environment, including:

Pass-thru chambers

Flush window designs

Custom door designs

Fan filter units

Air showers

Radius coving

Case Studies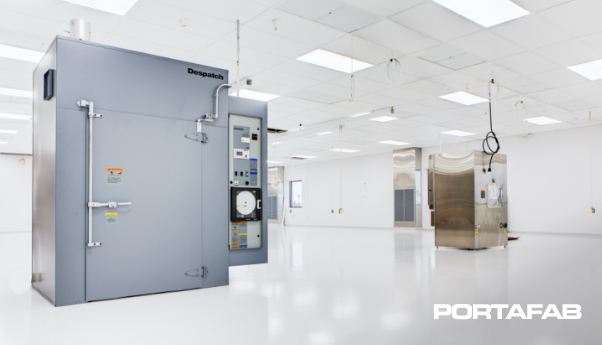 Case in Point #1
Vesta is a medical device outsourcing partner that delivers innovative solutions in molding, extrusion and assembly of devices and packaging for the medical industry. Our client required complete environmental control with ISO 8 validation in order to completely contain one of their manufacturing processes. The benefits provided:
Minimal impact to facility during installation
Environmental control for ISO 8 validation
Coordination with construction trades for efficient construction process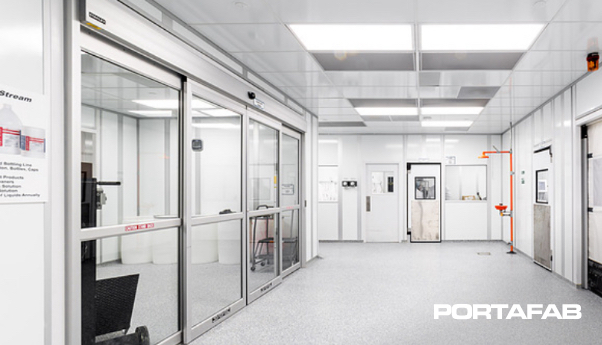 Case in Point #2
Being a pharma-product there were strict guidelines, compliance and regulatory – EPA and FDA – critical factors to meet. All while maintaining production in their facility within given time restraints and within budgets. The benefits provided:
Multiple ISO classifications for production
Sampling, packaging, and storage
Restroom and meeting rooms
Planned future expansion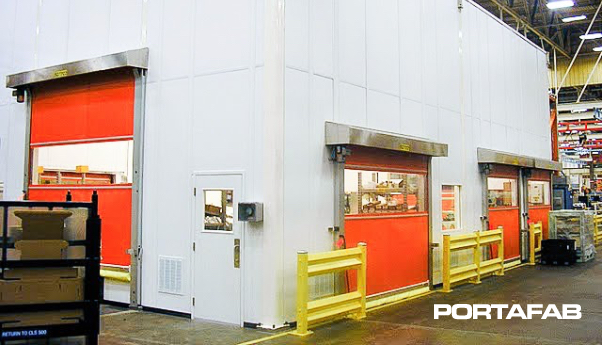 Case in Point #3
In order to meet the inspection standards already in place at a Caterpillar manufacturing facility in Europe, Caterpillar's Generator Plant in Lafayette, Indiana needed to install a cleanroom to enclose an area where the quality control engineers inspected the generators. The benefits provided:
Allowed operation to comply with quality guidelines from major customer
Integrated with conveyors and bridge crane with minimal plant disruption