PortaFab offers multiple roof and ceiling options to meet the specific needs of virtually any application. From basic systems that provide a clean, cost-effective solution to more functional load-bearing, cleanroom and structural systems, our team can outfit your space with the best option for your needs.
Steel Roof with Ceiling Grid
Most single-story offices and buildings are outfitted with 22 gauge ribbed steel roof - 1-1/2" deep, painted and cut to length. This "dust cover" is supported by the framing system to provide a clean, professional appearance.
This steel roof supports a pre-painted, metal grid ceiling system that hangs approximately 6" from the "dust cover" to provide a plenum for electrical wiring and light fixtures. The grid accommodates standard 2' x 4' lay-in, acoustical ceiling tiles made from class A non-combustible white fissured mineral board, but custom ceiling tiles can be utilized as well.
See below for info on PortaFab's Ceiling Grid Options.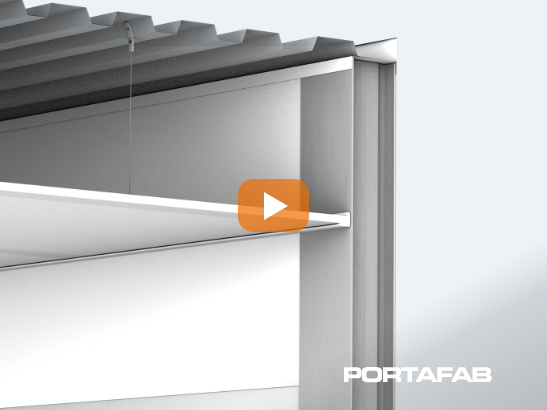 Load-bearing Roofs
The load-bearing qualities of our industry-leading framing systems allow you to cost-effectively build two-story structures that free up valuable floor space.
Cost-Effectively Create Space
PortaFab's versatile framing systems utilize 3", 4-5/8" and 6" thick walls that can support load-bearing roofs and two-story construction without the need for costly support columns or mezzanines. This option is ideal for creating...
Additional storage space
Walkable platforms
2nd-story offices
Watch video to learn cost effective ways to create more space.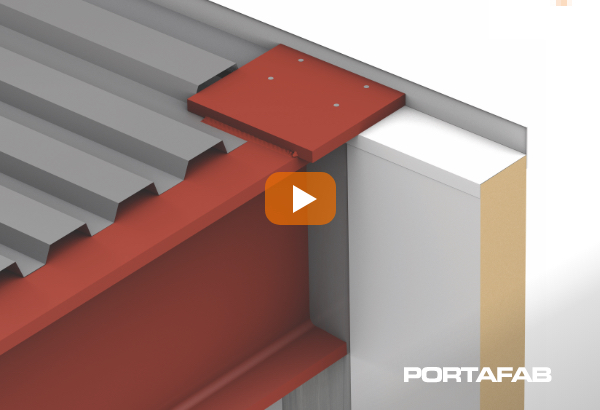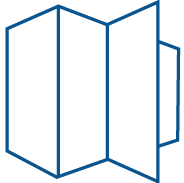 Roofless Option
For applications requiring the utilization of existing lighting, fire suppression or climate control systems in a facility, roofless structures or standalone wall partitions can be used.
Common Applications
Data center wall partitions - shown here
Laser enclosures
Robotics enclosures
Manufacturing cells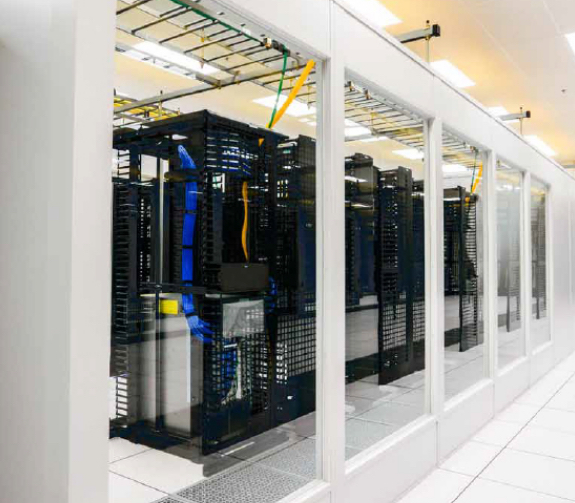 Multiple Ceiling Grids
PortaFab's modular building systems satisfy the needs of a diverse range of applications by allowing the easy introduction of wiring, lighting, and HVAC capabilities through three different ceiling grids.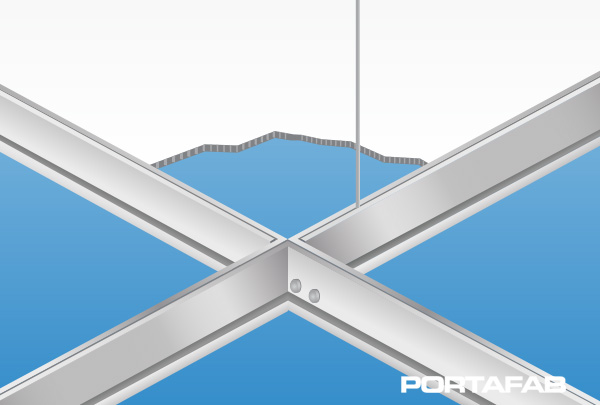 1-1/2" Ceiling Grid
The 1-½" gasket ceiling grid is the perfect solution for diverse applications and industries. Its 1-½" face tee supports standard ceiling panels, light fixtures, filter systems and more that can be installed quickly and easily thanks to a clip assembly that requires no special tools.
Layouts: 2'x 2', 2'x 4', or 4'x 4'
Finishes: Powder coat white or clear anodized finish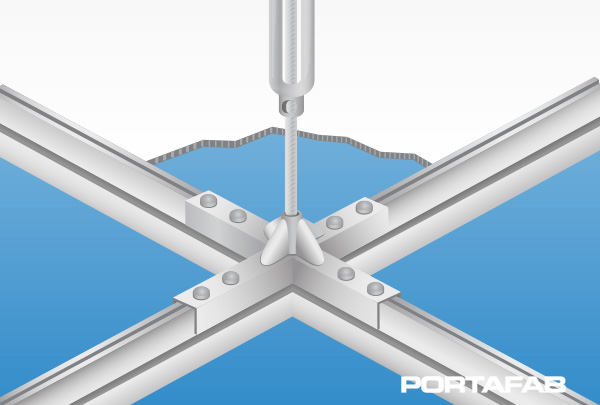 2" Gasket Grid
The 2" Gasket Grid system combines flexibility and simplicity with the complete versatility of non-progressive construction to meet the ever-changing needs of today's businesses. The functional, stick-built system features a 2" wide structural grid system with aluminum extrusions and zinc die castings that accommodate standard ceiling panels, light fixtures and filter modules.
Layouts: 2'x 2', 2'x 4', or 4'x 4'
Finishes: Powder coat white or clear anodized finish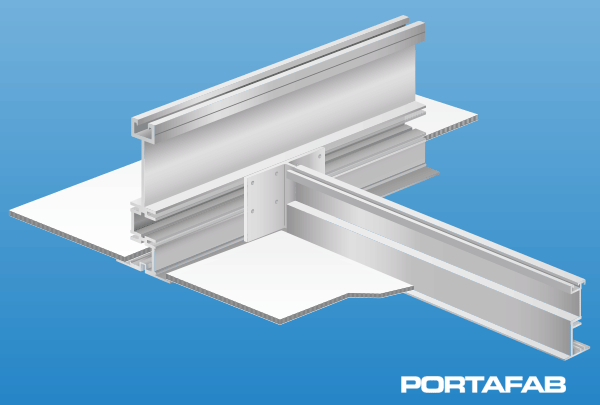 Structural Ceiling Grid
PortaFab's structural ceiling grid is ideal for applications in which relatively heavy items need to be suspended within the building. When compared to non-modular ceiling systems custom built with Unistrut, the PortaFab structural grid ceiling is typically more cost-effective and quicker to install.
Common applications include:
Data Centers
Grow Rooms
Softwall Cleanrooms
Medical and Dental Rooms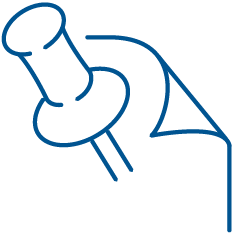 Case Studies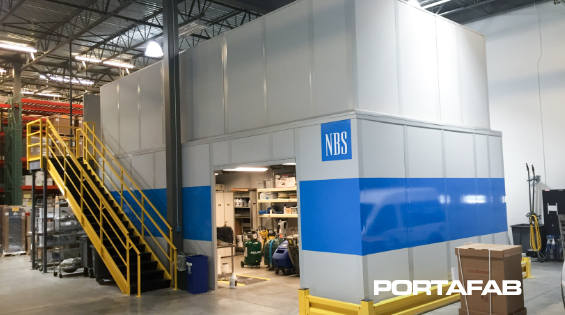 Enclosed 2nd-Story Storage
Using the OmniFlex system with Steel Fire & Sound wall panels, we created a 75lb. psf. load-bearing roof, outfitted it with 7' tall freestanding upper level walls and made it accessible with integrated stairs.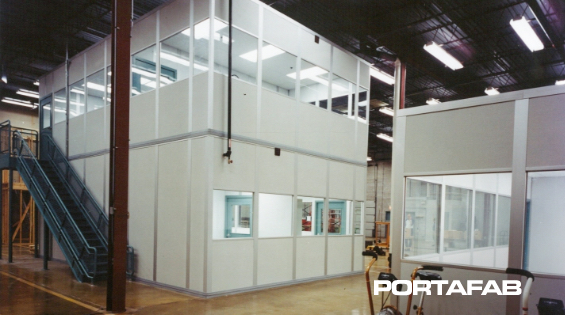 Temporary Space
Ingalls Hospital Outpatient Rehab needed to create a quieter and climate-controlled area for employees and patients within a lease facility. PortaFab satisfied these needs with minimal disruption and the ability to re-locate when the lease was up.
3-Wall, 2-Story Office Complex
A Siemens electrical components plant located utilized PortaFab's load-bearing walls to create this inplant building featuring office space, conference room, a laboratory and locker rooms.