Roof & Ceiling Options
PortaFab modular offices and enclosures utilize a 22 gauge ribbed steel roof, 1-1/2" deep, painted and cut to length. This "dust cover" is supported by the framing system and lies within the cornice mold or top cap of the office for a clean and professional look. Units over 12' in length require load bearing roof beams as shown below.
The ceiling system hangs approximately 6" from the dust cover providing a plenum for electrical wiring and light fixtures. It consists of a prepainted metal grid with lay-in acoustical ceiling tiles made from class A non-combustible white fissured mineral board. Standard ceiling tiles are 2' x 4'. Custom ceilings are available.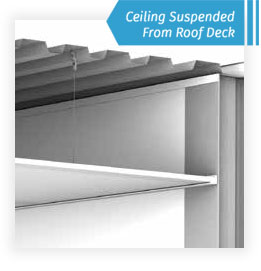 Load-bearing Roofs
Floor space is an expensive and valuable commodity in any manufacturing facility or distribution center. In most cases the space in the high bay areas are never fully utilized thus forcing companies to expand outward with more square footage. Load-bearing platforms provide an economical solution to saving valuable floor space by going "up" and taking advantage of unused vertical space.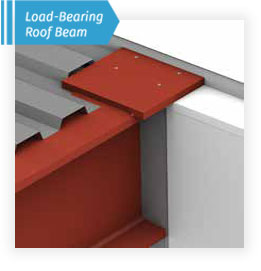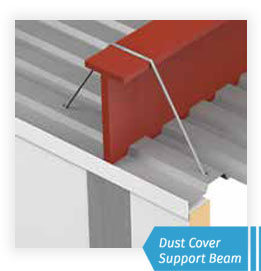 The stud posts in all of our wall systems are structurally designed to support up to 125 lbs/square foot - ideal for walkable platforms, maintenance loads, two story structures and even parts storage. In addition, we can provide a number of accessories to finish out the load bearing roof including: stairs and landings, handrail, swing gates and a variety of flat surfaces to finish off the top of the roof.
Load-bearing characteristics allow for second stories for offices or storage.