PortaFab modular offices and inplant buildings are designed to accommodate standard electrical components and fluorescent light fixtures. OmniFlex, Series 300, and all PortaMax systems feature studs with wiring raceways that make installing electrical, voice, and data systems easy. For even greater convenience, offices can be outfitted with a pre-engineered "Snap Together" modular wiring system.
Standard Electrical Components
Standard electrical and lighting components include 2' x 4' fluorescent lights with the following:

Recessed Troffers

Outlets and Switches

Circuit Breaker Boxes

Optional Components

Easy Wiring & Cabling Integration
Thanks to the innovative 2-piece design of our framing studs, integrating electrical and data systems into our buildings is easy and flexible.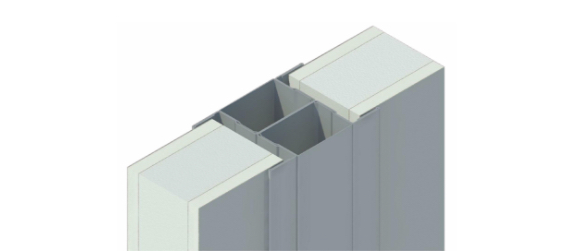 Wiring Studs
Solid, two-piece construction of PortaFab's framing systems allow wiring and cabling on both sides of the stud.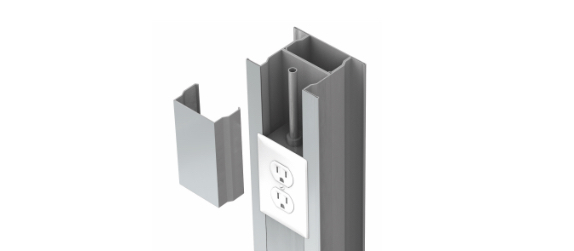 "Snap-in" Cover Plate
Removable "snap-in" cover plate provides a clean professional finish while allowing for easy inspection of the raceway.
Snap Together Modular Wiring System
PortaFab has developed a modular wiring package that outfits your in-plant office with everything it needs for simple installation. All outlet boxes, switches, wiring, and conduit fit neatly into the studs of the framing system with removable cover plates for wiring access while recessed fluorescent light fixtures integrate seamlessly with the ceiling grid system. Optional pre-wired circuit breaker boxes for your particular design can be included so that an electrician is only needed to hook up the power source to the breaker box.
Circuit Breaker Box
240v Converter Cable
120v Converter Cable
2'x4' Recessed Light Fixture
120v LIghting Fixture Cable
120v LIghting Extender Cable
Modular Climate Control
240v Dedicated Receptacle Drop
120v Duplex Receptacle Drop
120v Extender Cable
120v Switch Drop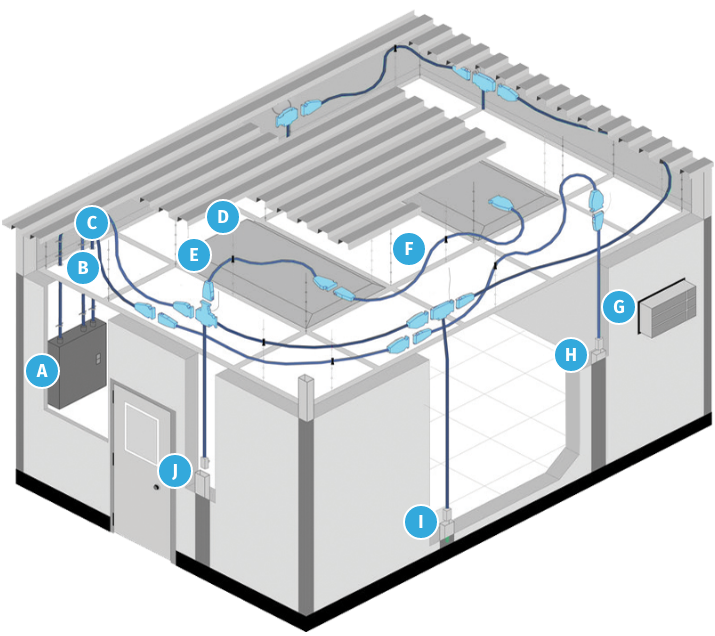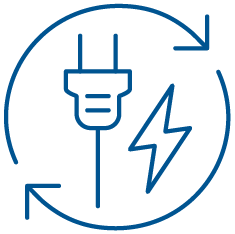 Snap Together Wiring Advantages

Lower Total Cost
Unlike traditional wiring methods which are labor intensive and require extensive involvement from electricians, modular wiring systems snap together in a fraction of the time so all the electrician has to do is bring the power to the circuit breaker box and connect the circuits to the breakers.

Flexibility
With pre-wired fixtures and PNLs, the modular electric package can be reconfigured and reused in the future if a change to the building design is required.

3-Way Modular Switching
Ideal for larger offices, the system can be configured to provide switches for multiple points of entry.
Reduced Installation Time
The pre-engineered system can typically be fully integrated and running in much less time than conventional electric. Not only does this provide a 75-80% savings in time, but it makes it easier to coordinate the entire installation project between field technicians.
Safety & Reliability
All components are factory tested and comply with UL183 (standard for manufactured wiring systems) and NEC 604 requirements. Plus, the simple "snap together" technology eliminates potential installation errors caused by field electricians.

Tax Advantages
Since modular systems are considered capital equipment, there are certain tax advantages to building with modular components.

Converter
Optional prewired circuit breaker boxes for your particular design can be included so that an electrician is only needed to hook up the power source to the breaker box.

Voltages
Standard voltages include 120, 240 & 277.

Environmentally Friendly
The modular wiring system is a greener solution than traditional wiring. It minimizes construction waste while maximizing productivity, reusability, and the use of recycled materials. It is an ideal solution those looking to maximize LEED points.