Ticket booths are an essential component of the event experience, providing a convenient and secure way for attendees to purchase tickets. PortaFab's pre-manufactured aluminum ticket booths are small, enclosed structures that are commonly found at entrances to events such as concerts, sports games, and amusement parks. Inside the ticket booth, employees have access to a cash register and other equipment necessary for selling tickets and providing information to attendees. The enclosed nature of the booth allows employees to work in a secure and comfortable environment, without being interrupted by outside noise or distractions.
Choose Your Size
Our standard line of pre-assembled buildings range in size from 3' x 5' to 8' x 16' and feature sliding glass windows, fully functional electrical systems, and a durable welded, all aluminum construction that stands up to elements without rusting.
Accessorize
Optional climate control systems, cash drawers, and counters can easily be incorporated into any building to transform it into a cashier or ticket booth.
Install
All ticket booths are shipped fully assembled and ready for immediate occupancy. All you have to do is hook up the power. PortaFab's ticket booths can also be outfitted with solar powered options.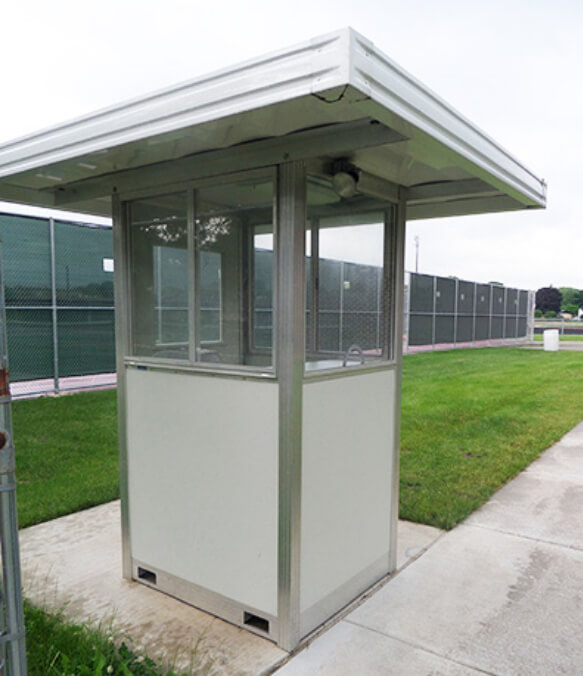 Multiple Window Options
PortaFab ticket booths are typically outfitted with sliding, fixed or ticket windows in a variety of glazing options and placements to ensure 360° viewing. However, solid panels are also available.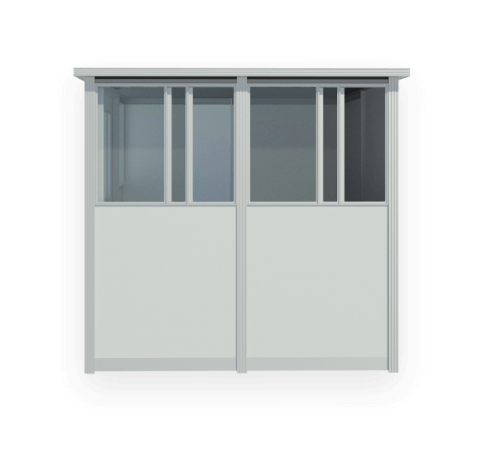 Sliding Windows
Our heavy-duty, lockable and pile weather-stripped sliding windows allow for maximum air-flow and convenience for the ticket booth operator. Optional window screens are available for rear and side windows where no transactions will occur.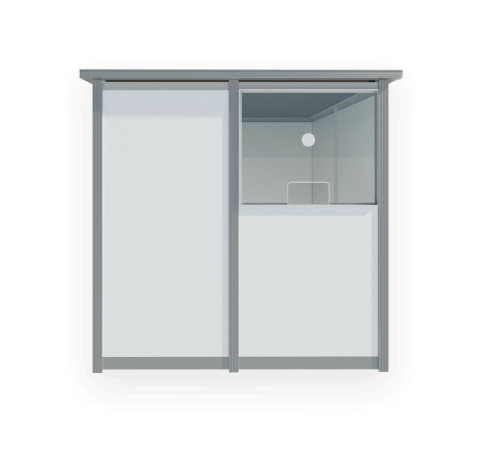 Ticket Windows & Solid Panels
Specialty "ticket windows" feature a solid window pane fabricated with holes for communicating and passing money and tickets. Solid panels can also be integrated for ticket booths that will be placed against a solid wall or don't require 360° viewing.
Shelves and Drawers
Interior Shelf
Our standard interior shelf measuring 16" deep and made of high pressure laminate can be factory-installed in any ticket booth. The gray shelf and comes standard in units up to 48" wide, but can be added to most ticket booths.
Transaction Drawer
An optional metal storage drawer or cash drawer can be installed under the shelf or our design team can work with you to integrate more sophisticated solutions like a thru-wall transaction drawer (shown in inset).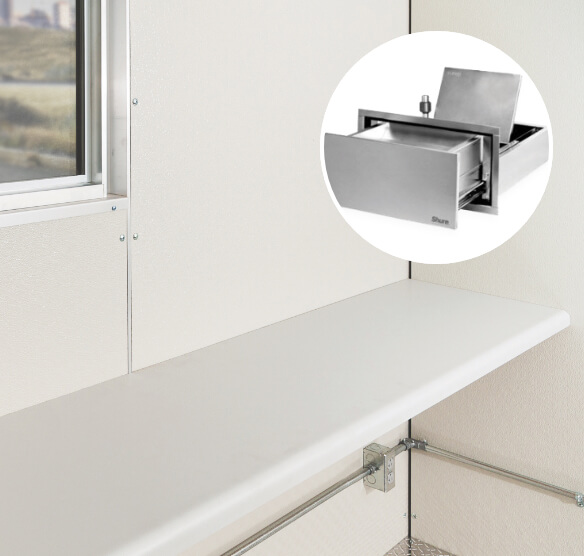 Standard Features
All-welded, all-aluminum construction
360-degree visibility with safety glass windows
Integrated climate control systems
Electrical and lighting equipped
Heavy-duty, steel, sliding or swing doors
Multiple roof options
19 Ticket Booth Sizes
From 3' x 5' to 8' x 16'
PortaFab's pre-manufactured aluminum ticket booths range from 3' x 5' to 8' x 16' as one-piece units. Custom sizes are also available. Larger sizes may require a two-piece design requiring some onsite construction.