A Leading Manufacturer of Modular Cleanroom Systems
PortaFab designs and manufactures modular cleanrooms & controlled environments, along with cleanroom building components that service the specific requirements of the pharmaceutical and micro-electronics industries as well as a general applications that range from food processing to paint finishing.
Benefits of Modular Cleanrooms

20 Standard Hardwall Cleanrooms
PortaFab's standard hardwall cleanrooms are the ideal solution where stand-alone cleanroom units are needed. These cleanrooms are available in 20 standard sizes and were designed to comply with ISO cleanroom classifications. Our standard hardwall cleanrooms utilize a single pass design and also features a load-bearing roof, modular wiring, and steel surface finish.

Three Modular Cleanroom Systems
At the heart of every modular wall system lies the metal stud framing. Not only does this provide the structural integrity for the entire office or enclosure, but it also makes the system relocatable, attractive, and easy to assemble and wire. With three different cleanroom wall systems, you can rest assured that PortaFab will find the right product for your application.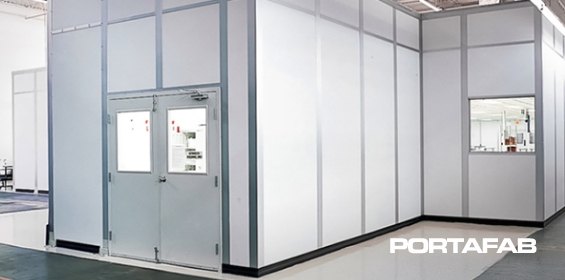 CleanLine
The CleanLine System represents our all-purpose solution for creating a wide variety of cleanrooms and environmental enclosures. It is designed for applications from ISO 4 to ISO 8 cleanroom environments, but can also be used for simpler applications.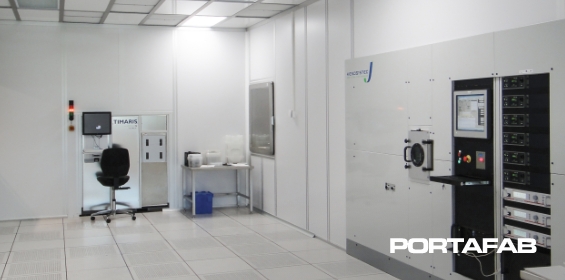 FabLine
FabLine Modular Wall Systems make it easier and more cost-effective than ever before to create ultra-clean facilities meeting the critical environmental conditions demanded in the precision microelectronics and nanotechnology industries.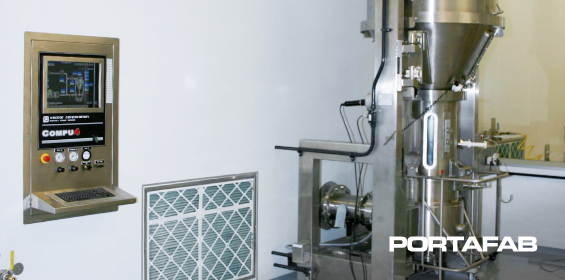 PharmaSystem
PharmaSystem is the ideal solution for creating cost-effective controlled environments in pharmaceutical, life science, and biotechnology facilities. This wall system is designed to meet the most stringent guidelines for cleanroom construction.

Modular Cleanroom Components
PortaFab manufactures and integrates a wide variety of cleanroom components to help satisfy the requirements of your particular application.

Over 40 Years of Experience
Read case studies, view photos and learn about some of the applications we have provided solutions for in the past 40 years.

Distributors Throughout North America
700+ Certified Distributors
For over 40 years, PortaFab has provided turn-key cleanroom design and installation services for major corporations worldwide. Our staff of in-house engineers and cleanroom design consultants are an asset to architects and general contractors who lean on us to deliver functional and cost-effective solutions.