PortaFab Warm-Up Booths are a quick, cost-effective solution for helping to keep your workforce warm in environments in which the temperature is hard to control or that need to stay cold.
Step In and Warm-Up
Comply with one of OSHA's top tips for protecting workers in cold environments…
"Be sure workers in extreme conditions take a frequent short break in warm dry shelters to allow their bodies to warm up." Source OSHA
Enhanced Productivity
There is little debate that very cold temperatures limit productivity as one's blood flow is directed more to vital organs and less to one's extremities which tends to slow movement. By keeping your workers warm, you may have the added benefit of keeping them more productive.
Protect Your Workers and Your Company
Anyone working in a cold or damp environment for an extended period of time is at risk for cold stress. By installing PortaFab Warm-Up Booths and implementing OSHA recommended warm-up schedules, you can decrease the chance of workplace injury and help comply with OSHA guidelines.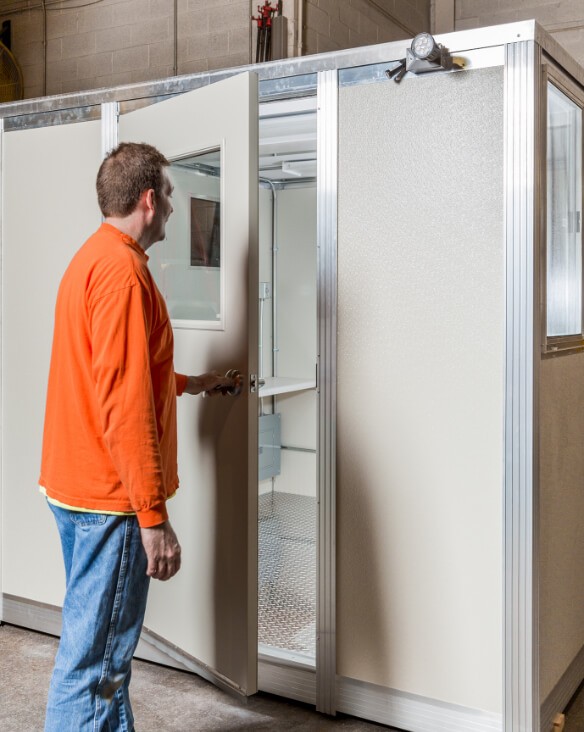 Warming Up to the Benefits
Attractive Workplace Perk
Boost Morale, Performance, & Productivity
Reduce Turnover & Increase Job Satisfaction
Prevent Temperature-Related Illnesses & Absence
Fulfill Union Agreements
Cost Effective vs. Heating Entire Area (if even possible)
Year-Round Comfort
Booths can be equipped with insulated panels and multiple climate control options to maintain the desired temperature inside economically and efficiently.
Insulated Walls
Insulated wall panels featuring R-10 Insulation provide additional protection from extreme temperatures.
HVAC & AC Units
PortaFab booths can be outfitted with a number of standard HVAC units. Wall mount AC and heater units include 8,000, 11,000 and 15,000 BTU.
Exhaust Fans
Integrated exhaust fans provide a cost-effective method of circulating airflow and improving worker comfort.
Baseboard Heaters
Electric baseboard heaters can be surface mounted onto walls and integrated with the building's electrical system.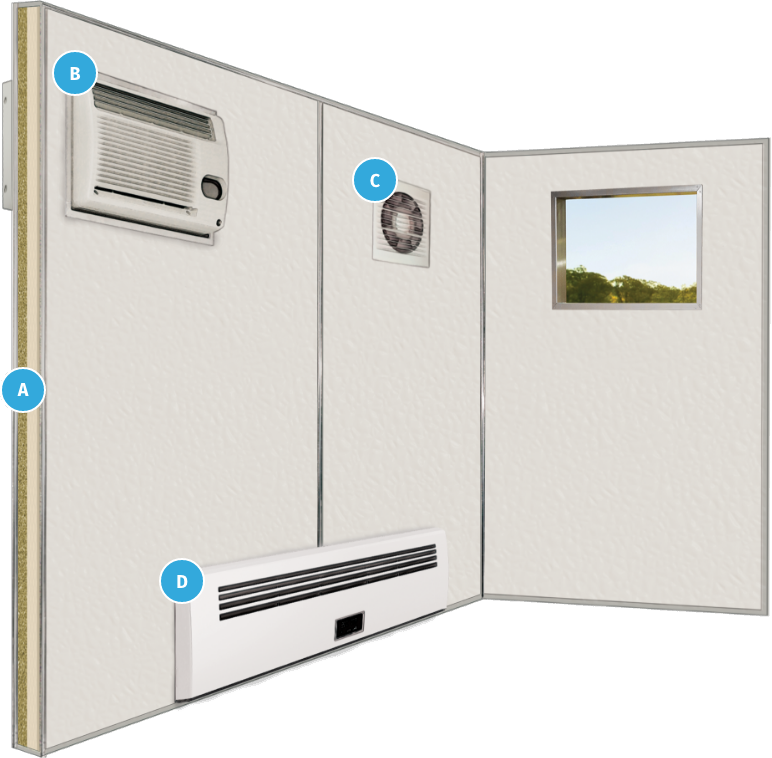 Standard Features
Shipped fully assembled and ready for immediate occupancy, PortaFab booths come standard with tempered safety glass windows and heavy-duty steel doors as well as many other options.
All-welded, all-aluminum construction
360-degree visibility with safety glass windows
Integrated climate control systems
Electrical and lighting equipped
Heavy-duty, steel, sliding or swing doors
Forklift pockets for maximum portability
19 Standard Sizes
From 3' x 4' to 8' x 20'
PortaFab standard booths range from 3' x 4' to 8' x 20' as one-piece units. Custom sizes are also available. Larger sizes may require a two-piece design requiring some onsite construction.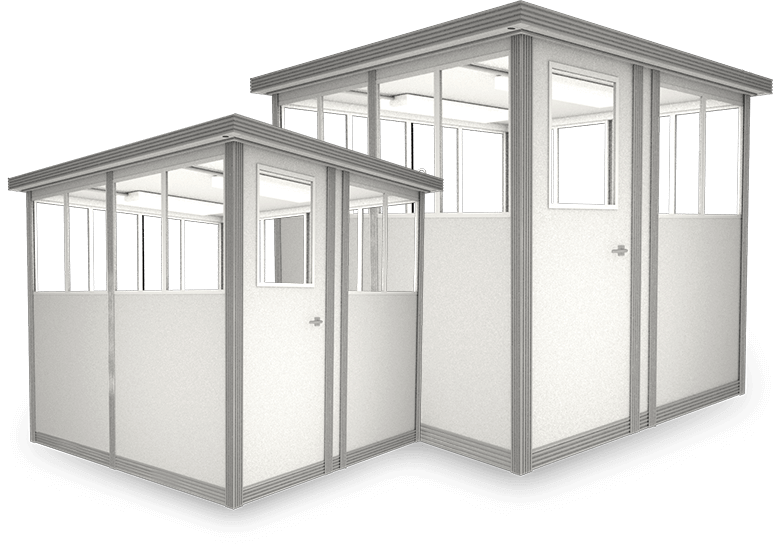 Additional Options
Modular Building Option
As an option to using an all-welded, preassembled booth, indoor warm up rooms can be built using PortaFab's line of modular building systems. These rooms can be integrated with the facility's HVAC systems or use independent climate control systems.
You can choose from 30 standard "Quick Ship" buildings ranging in size from 8 x 8 to 20 x 40 or create a completely customized solution.