Standard "Quick-Ship" Modular Offices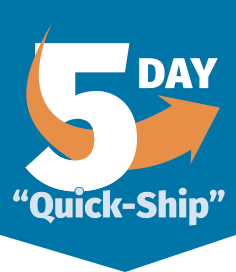 Our integrated modular systems design and interchangeability of parts enables us to ship most standard inplant offices within 5 days of an order. See below for information on qualifying for this program.
"Quick-Ship" units come as two, three, or four wall buildings created from your selection of either the OmniFlex steel or Series 300 aluminum stud framing systems. All systems include:
Galvanized floor track
Vinyl base on interior and exterior
Painted top cap
Wiring posts
3" thick wall panels
The components of a typical "Quick-Ship" prefabricated office and information on how to design one are available in Specifying Instructions.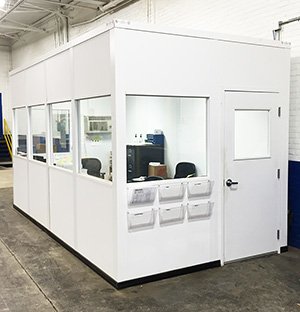 Qualifying for The 5 Day "Quick-Ship" Program
PortaFab provides five day shipments for orders less than $15,000 and less than 20' in width for Series 300 and OmniFlex product lines.
The color will be champagne, gray or white on both sides, in wall heights of 8' or 9'. Standard thermal panels consist of 1/4" vinyl hardboard on polystyrene core or fire and sound (F&S) panels with 1/2" vinyl gypsum on polystyrene core. Please refer to the accessories below for a listing of which items are available under this program.
The following will help you determine what orders will qualify under this program:
| | | |
| --- | --- | --- |
| | Qualifying Options | Non-Qualifying Options |
| | 8' or 9' wall height | Special cut height |
| | Champagne, gray or white finish both sides | Any other color |
| | Thermal panels consisting of 1/4" vinyl hardboard on polystyrene core or fire and sound (F&S) panels with 1/2" vinyl gypsum on polystyrene core | Other panel constructions |
| | 3070 & 6070 doors with or without glass | Other door sizes |
| | 1/4" clear tempered glass, 4' x 3' or 2' x 3' fixed windows | Other glass options |
| | Framed A/C cutouts | Large cutouts and openings |
| | Dust cover support beam | Load-bearing roofs |
| | Orders less than $15,000 net | Orders over $15,000 net |
| | Buildings 20' wide or less | Buildings wider than 20' |
| | Any accessories noted below | Special items not in stock |
Options for "Quick-Ship" Units
Doors and Hardware

Steel Door Assembly

3070 - 20 Gauge Steel Door Assembly - Flush
6070 - 20 Gauge Steel Double Door Assembly - Flush

Glass

1/4" Clear Tempered Safety Glass

Locksets

Lever Lockset (standard duty)
Window Assemblies

Fixed Window

4' or 2' nominal width x 3' nominal height glazed with 1/4 clear tempered safety glass.

Sliding Window

3' x 3' nominal dimensions, installed in wall panel glazed with 1/8" clear tempered safety glass.
Roof and Ceiling Systems

Acoustical Ceiling

2' x 4' x 5/8" mineral fiberboard with white steel grid system

Ceiling Insulation

6" Fiberglass (R-19) (144 SF per roll)

Roof Deck

Up to 12' length
16' long dust cover support beam
20' long dust cover support beam
Dust cover support angle - 12' (must be used along all existing building walls)
Climate Control

HVAC Units

11,600 btu cool/11,300 btu heat (230V)

Framed Cutouts

Installed or material only (size not to exceed 12 l.f.)
Electrical Components

Light Fixture

2' x 4' fluorescent (4-bulb) fixture, T8 ballast (bulbs not included)

Outlet or Switch

Outlet without Wiring (15V)
Switch without wiring (15V)

Exhaust Fan

270 cfm ceiling mounted exhaust fan - Includes fan, duct kit, and switch (louver in door is recommended for maximum air flow)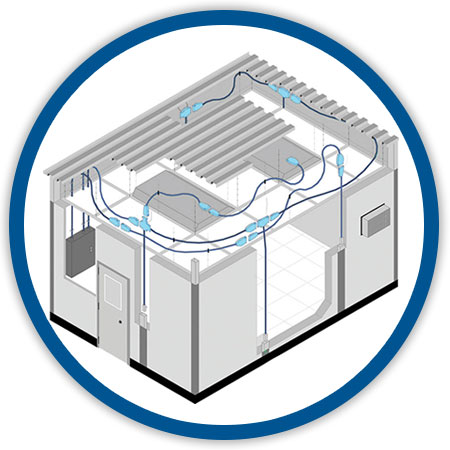 Modular Electric Packages
For even greater convenience, offices can be outfitted with a pre-engineered modular wiring system. This system significantly reduces time and costs associated with new in-plant office installations by providing all the necessary electrical hardware in a convenient and pre-engineered "snap together" wiring system. Learn more about our Modular Wiring Package.
Custom Buildings Available
Visit our Applications Page for Modular Offices and Inplant Buildings for options beyond our standard line of quick ship modular buildings.
Receive an Immediate Price Quote
Interested in a custom price quote for one of our modular buildings? Click below to submit your inquiry to one of our modular office sales managers and they will respond quickly to your inquiry.