Cleanroom Learning Center
As a leading designer and supplier of cleanroom wall and ceiling systems, PortaFab offers a number of helpful articles on cleanroom design, specification, classification and cleanroom regulations.
Understanding Cleanroom Applications
What Is A Clean Room?
View our short video and article explaining the purpose of cleanrooms and controlled environments as well as information on cleanroom contamination and ISO classifications.
Cleanrooms & Controlled Environments
Even though PortaFab's cleanroom systems can be used to create highly-advanced critical environments, that type of application is typically a smaller percentage of the cleanroom market that we serve. The majority of our work involves the creation of modular environments that allow our end-customers to contain processes, enclose machinery or adhere to specific regulations.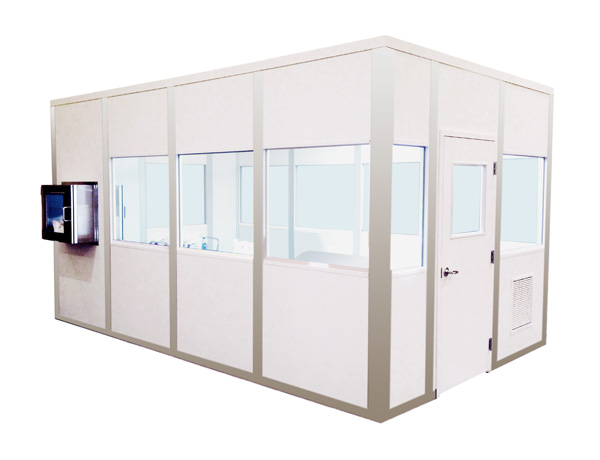 Do I need a cleanroom or controlled environment? Read about the differences and applications for both here.
Cleanroom Design, Construction and Specification
Cleanroom Design
Some basic information regarding the types of cleanroom designs that are available as well as information on airflow design and cleanroom classifications.
Cleanroom Classification
A brief overview of how cleanroom classfication is measured, along with some helpful questions to ask when determining which classification will be appropriate for a specific application.
Selecting the Right Cleanroom Construction Materials
This article examines critical selection criteria for determining the most efficient and cost-effective cleanroom construction technique, with a particular emphasis on the potential benefits offered by modular construction.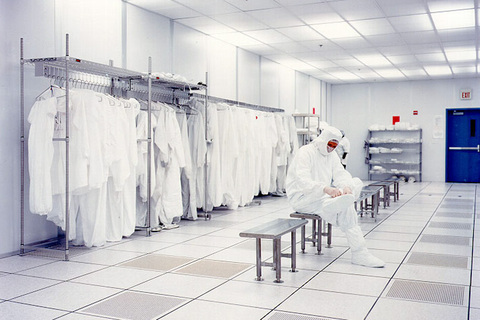 Get answers to common cleanroom design, construction and specification questions in our cleanroom FAQ section.
The Cleanroom Construction Process
While there are discrete steps in the design and construction of a cleanroom, those projects deemed successful incorporate certain practices that promote flow of the construction process toward completion on time and within budget. This article outlines the necessary steps to enhance the success of your cleanroom construction project.
Bio-Pharmaceutical Cleanroom Design Guidelines
A very informative article specifying the design and construction of cleanrooms for housing bio-pharmaceutical processes.
Frequently Asked Questions
Visit our cleanroom design FAQs page for video responses to some common questions about cleanroom design, specification and classification.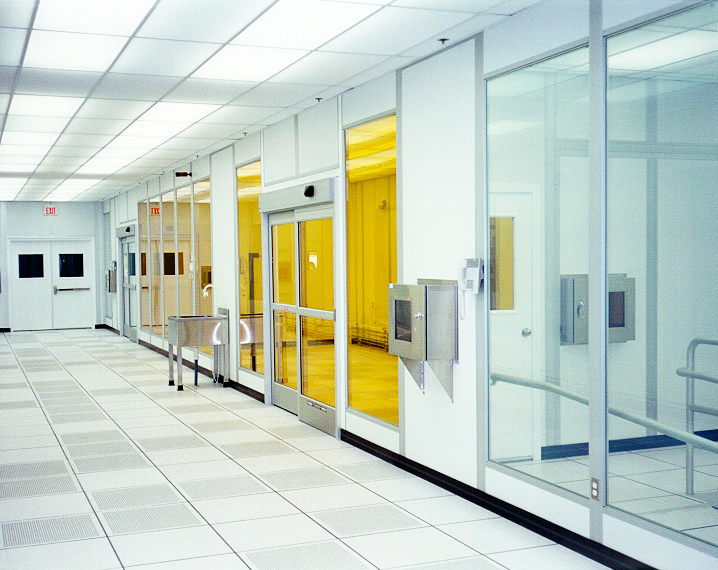 USP 797 cleanroom lab for sterile compounding. Read more about the USP 797 regulations.
Cleanroom Regulations
Effect of ISO Standards on Microelectronics Clean Room Design
This movement is an international effort in which the U.S. has participated and which has resulted in a multiple part document that in the opening years of the millennium may very well become the guiding document for cleanroom design in the U.S. and throughout the world. ISO 14644 will most likely become very familiar to those of us who design cleanrooms.
USP 797 Pharmaceutical Labs & Sterile Compounding Regulations
USP 797 is a far-reaching regulation that applies to health care institutions, pharmacies, physicians practice facilities, and other facilities in which compound sterile preparations are prepared, stored, and dispensed. The purpose of the regulation is to prevent infections in patients using pharmaceutical products, as well as to protect pharmacy staff members that are ordinarily exposed to pharmaceutical products.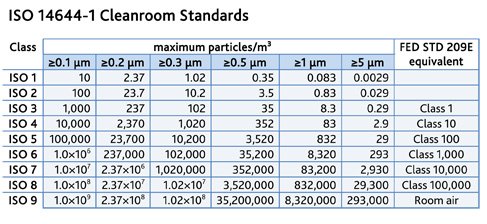 Table of ISO 14644 & Standard 209E Classes. View a larger version