At PortaFab, we specialize in designing structural mezzanines to satisfy the specific requirements of wide variety of mezzanine applications. We ask questions to understand the intended use of the mezzanine to ensure the final decision will satisfy your need for efficiency and safety under your planned working conditions.
The design of a mezzanine is not as simple as specifying a size and load capacity. As the use varies, so must the structural design. Mezzanines used to support offices are designed with tighter lateral stability standards than those designed for general storage. Applications with high point loads require that special attention be paid to the ability of the deck to distribute these loads to the support members.
In order to effectively service a broad range of applications with cost effective solutions, we offer different connection systems, many flooring options, and a number of accessories in addition to our lines of load-bearing modular wall systems that can also be used in designing mezzanines.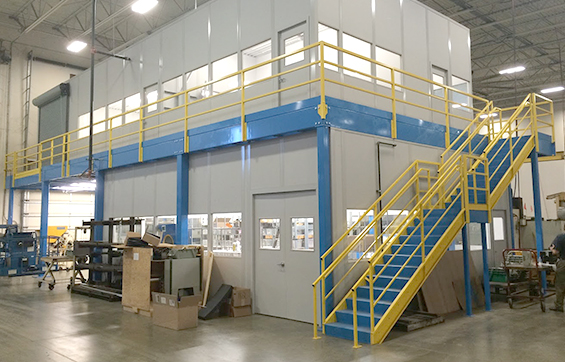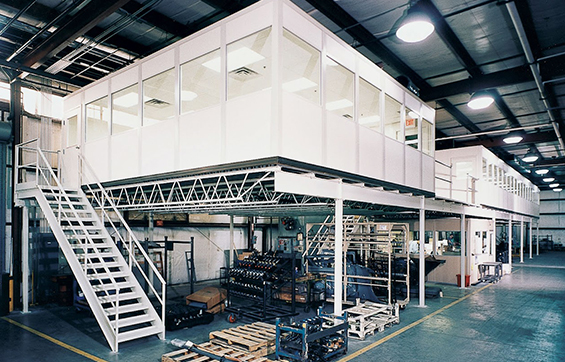 Columns can often be spaced to accommodate one's needs for more space under the mezzanine.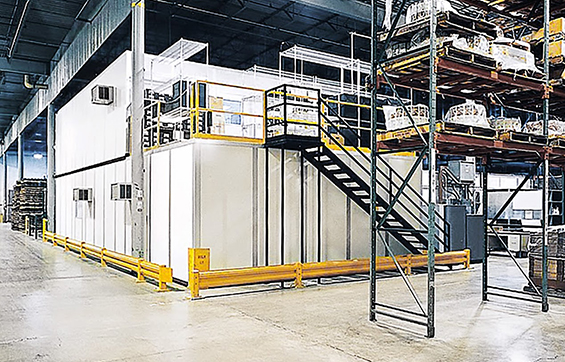 Using load-bearing modular wall systems is one of the most cost effective ways to add both office and storage space.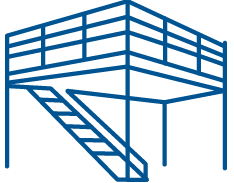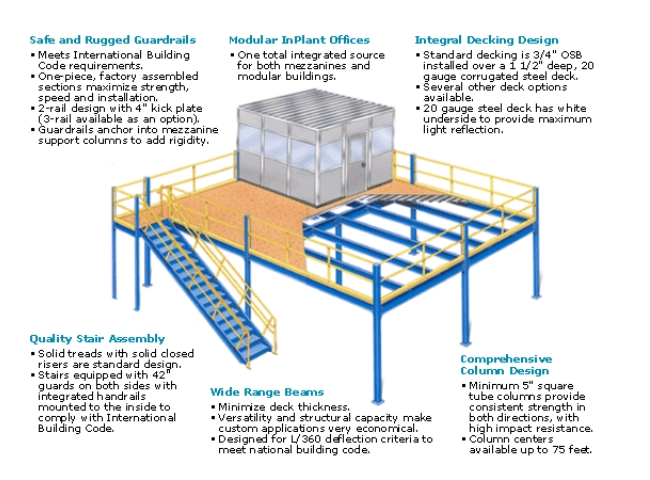 Common Mezzanine Construction Elements
To ensure that your mezzanine is constructed of the highest quality materials, we use structural steel conforming to ASTM A992, A500 and A36 grade B. ASTM A325 and ASTM Grade 5 hardened steel bolts and fasteners are utilized for superior shear strength.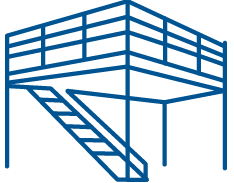 At PortaFab, we realize that different applications require totally different structural mezzanines. For light duty applications, our C Channel system is one of the most cost effective solutions on the market while our Type 3 Connection sets the standard for strength, durability, and stability. If offices are part of the plan, you can save by using one of PortaFab's load-bearing modular wall systems.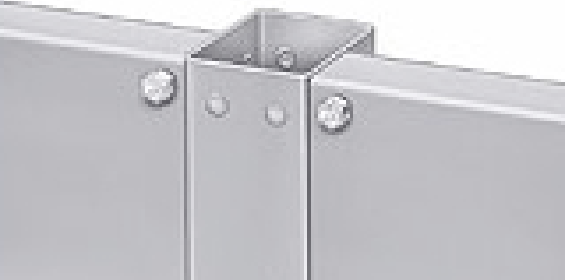 C Channel
Formed C Channels are used for small spans or as an effective alternative for light-duty applications. This system is our best selling line because of its low cost and case of installation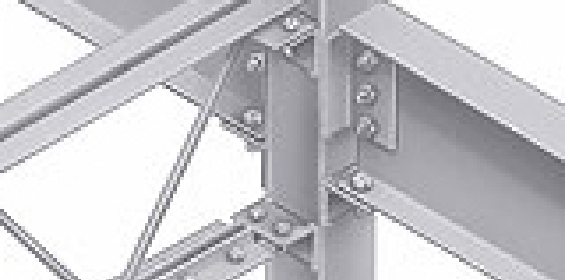 Open Web Bar Joists
An economical alternative for projects requiring large spans, open web bar joists are a proven structural component widely used in construction. They simplify the installation of sprinkler systems, electrical conduit, and mechanical equipment.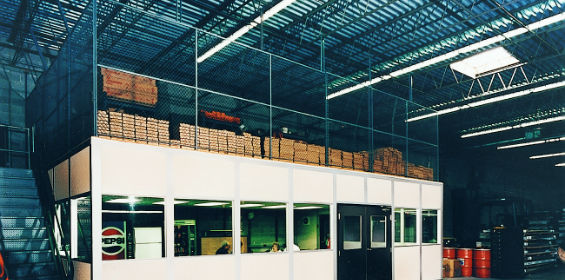 Storage Roof
One of the most cost effective ways to add both storage and office space is to utilize one of PortaFab's load bearing modular wall systems. The OmniFlex, for instance, can be outfitted with load-bearing roof beams that can accommodate mezzanine floors.
PortaFab can outfit your new mezzanine with a wide variety of accessories and options for added functionality, safety, and protection.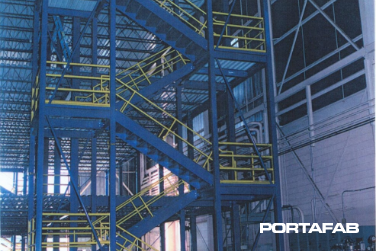 Stairs and Landings
Unlimited configurations are available to meet requirements of any application: Straight run, "L" shaped, or "U"-shaped. Tread choice of diamond plate or open-grate material. Steel components are finished in highly durable, chemical-resistant epoxy, or can also be available with a galvanized finish. Each design can be provided to meet IBC, UBC, BOCA, SBCCI, or OSHA requirements.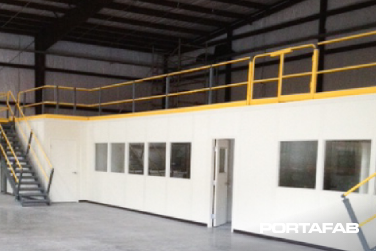 Safety Gates
We can design a gate to meet any need for new mezzanines or for existing structures.
Single or double gate assemblies for openings from 36" to 84"
Sliding gates available to create openings up to 120"
Lift-gates allow for openings up to 60" wide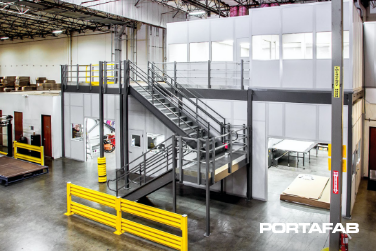 Border Guard
Protect your personnel and valuable plant equipment with our Border Guard protective railing system. Border guard is painted yellow and is available in a variety of lengths in single, double, or triple rail configurations. For those areas requiring protection, yet quick access to equipment, a removable rail system can be provided.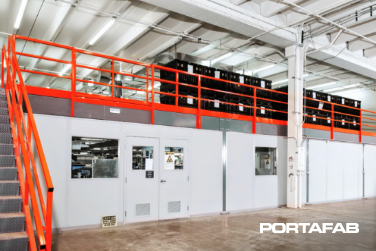 Guard Rails (Protective Handrails)
PortaFab handrails provide safety and can be used on existing structures, on the floor, or as barriers between different work areas.
Shipped in factory welded, panelized sections for quick and easy installation, handrail sections utilize a 2" round pipe for top and center rails and incorporate a 2"x4" rectangular tube kick plate. 2-rail designs for IBC, BOCA, SBCCI, and OSHA requirements or 3-rail designs for UBC requirements are also available.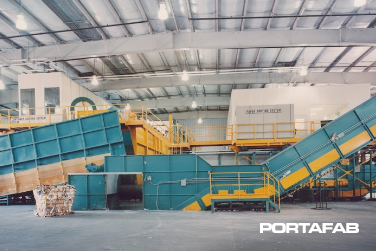 Custom Openings
Whether you need to incorporate conveyors, lift equipment, racks or carousels into your mezzanine, we can work with you and your equipment supplier to establish the required openings you need and coordinate the installation of the total system.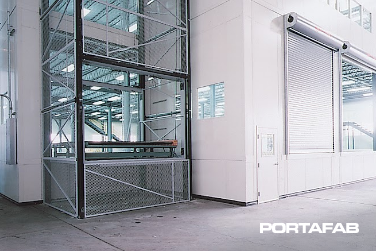 Lift Equipment
Vertical mezzanine lifts provide a safe, efficient way to transport materials and equipment from ground level to the mezzanine deck. Lifts can be designed to accommodate your requirements of load weight, load size, and required speed of travel. Vertical lofts can also be provided for manual, semi-automated, or fully automated uses.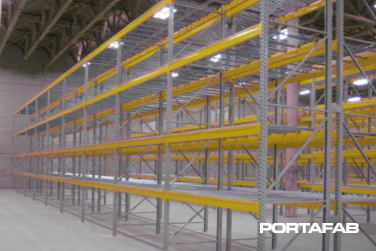 Cantilevers
Cantilevers allow flexible adjustment of column placements to avoid interference with traffic beneath the mezzanine. They can also be used along existing walls to deck around existing columns, piping, or equipment.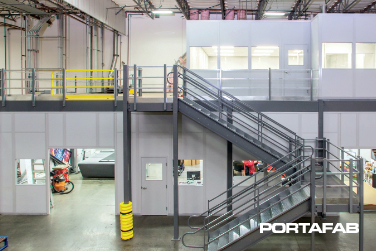 Pallet Drop Plate
These plates protect against deck damage caused by equipment used to transport materials on and off mezzanine edges. It will extend the life of your mezzanine deck.