PortaFab's modular wall systems are ideal for creating warehouse divider walls (also referred to as demising walls) quickly, and cost effectively due to the minimal waste and shorter installation time frame compared to traditional construction materials. Plus, the modular design allows these demising wall systems to be moved or relocated quickly, easily and inexpensively.
What Is A Demising Wall?
A demising wall (also known as a divider wall or partition wall) in an industrial setting, is a large wall used to divide space within a warehouse or facility in order to separate processes or enclose specific operations.
Demising Wall Implementations
Warehouse demising walls can vary greatly in application depending on the specific goal. For instance, they can:
Span great lengths in order to divide an entire manufacturing plant into separate areas.
Reach heights of 50-feet from floor to ceiling to completely enclose an area to create temperature and humidity controlled enclosures
Create smaller free-standing structures without a ceiling to take advantage of existing lighting and fire protection.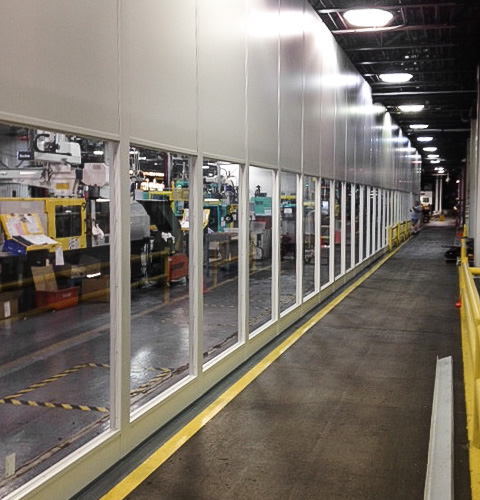 XTRA-TALL Wall Systems
When large spaces in your facility or warehouse need to be divided from floor to ceiling, we offer several extra tall demising wall systems that are ideal for creating temporary demising walls or permanent enclosures to enhance environmental control, workflow efficiency, or to improve throughput. Due to their prefabricated design, these modular wall systems integrate easily with one another as well as with the existing building's structure.
Photo Gallery