Modular Warehouse Offices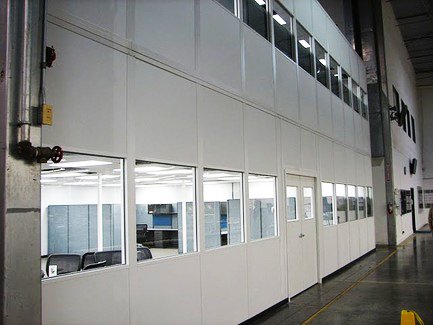 Placing supervisors and management close to operations in a warehouse can increase productivity and help improve communication.
PortaFab Modular Building Systems offer many options for inplant warehouse offices. Offices can be built on top of mezzanines to increase storage while improving visibility. Two story office buildings can be installed to maximize the available space.
By choosing a modular building system over traditional construction, one minimizes the disruption to the warehouse during construction and offices can be re-purposed, moved or renovated in the future. Read more about the benefits of modular construction.


Respond to Changing Business Needs
Below are some of the more pertinent benefits of utilizing PortaFab's office systems.
Optimized Warehouse Space
Warehouse offices enable important team members to be on the floor with manufacturing and assembly operations. By expanding vertically within the warehouse, additional office space can be created while minimizing the lateral footprint, thus saving valuable floor space. Plus, the flexible nature of using modular systems means buildings and offices can be integrated, expanded or reconfigured in the future, with no loss of material investment.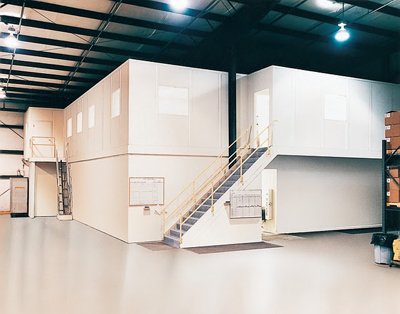 Decreased Disruption
Downtime in a manufacturing plant can be costly. Fortunately, building with modular systems instead of traditional construction materials results in a quicker installation project with fewer trades and less material waste, resulting in minimized disruption to the existing plant operations.
Structural Integrity
The heart of any warehouse office is its framing system and our OmniFlex leads the industry. Its stud sections physically connect back-to-back providing the strongest load bearing system on the market. The unique double layer steel studs provide more strength at a lower cost than single layer studs and the rolled ends reduce tear risks during assembly.
Ease of Expansion
Because of the flexibility of modular construction, our buildings can be expanded, relocated or minimized without ever showing signs that a repair or modification has been made. The versatility of our systems provides a true modular concept that can adapt to changing business needs.
5-Day Shipping for Standard Sizes
From 8x8 to 20x40, PortaFab offers 30 different office sizes which can be delivered within 5 days of your order. View our Standard Quick-Ship Modular Office page for more information.

Request a Quote
Click below to visit our online Quote Request Form to get a quick and customized price quote for your particular office application.

Office Photo Gallery
Review our photo gallery below for more applications and benefits of utilizing our modular systems to create warehouse offices. Be sure to check out our modular offices page for more information on our modular systems and their capabilities.