Mezzanines
Enhance operational efficiency at your facility by expanding vertically and turning overhead space into a work platform or storage area. Mezzanines allow you to gain the space you need without incurring the cost of new building construction or leasing. These versatile structures create new areas for manufacturing, storage, and offices "out of thin air."
A Single-Source for Space Utilization
PortaFab can be your single source for creating complete space utilization solutions that require both mezzanines and modular building systems. This single-source ability provides greater engineering control and enables us to coordinate all aspects of projects with our distributors. The result is a fully functional installation delivered complete and on time.
Each mezzanine is engineered to provide a custom solution to your specific space requirements. Common applications include the following:
PortaFab can outfit your new mezzanine with a wide variety of accessories and options for added functionality, safety, and protection.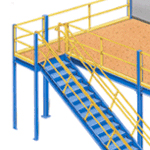 Our design philosophy focuses on how we can help you utilize the mezzanine so that it will provide the proper performance in a safe, efficient work environment.
Learn More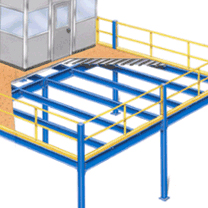 We use structural steel conforming to ASTM A992, A500 and A36 grade B. ASTM A325 and ASTM Grade 5 hardened steel bolts and fasteners are utilized for superior shear strength.
Learn More
Interested in a custom price quote for your mezzanine application? Click below to submit your inquiry to one of our mezzanine sales managers and they will respond quickly to your inquiry.