PortaFab modular wall systems are ideally suited for creating CMM (Coordinate Measuring Machines) rooms, metrology labs, gauge rooms and other areas in which one needs to control temperature, humidity and particulate to protect sophisticated equipment.
Complete Equipment Protection
PortaFab's modular building systems allow you to create these environmentally-controlled rooms with the following features:
Thick, insulated wall panels made from non-shedding materials including vinyl, FRP (fiberglass reinforced plastic), anodized aluminum and painted steel. Static dissipative surfaces are also available.
Integrated HVAC systems to ensure constant temperature and humidity levels.
Ceiling mounted fan filter units to control particulate and minimize dust and other contaminants.
Extended Heights & Integrated Doors
PortaFab also offers XTRA-TALL walls for creating enclosures to house large equipment. These buildings can be built around existing equipment or outfitted with options like high speed overhead doors for convenient access.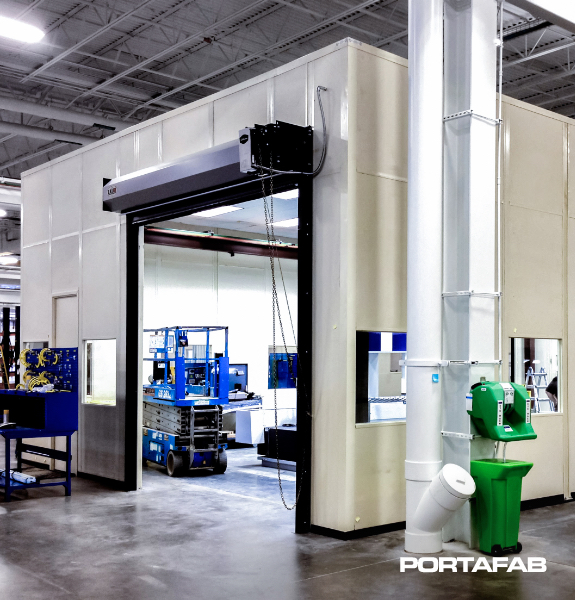 Case Studies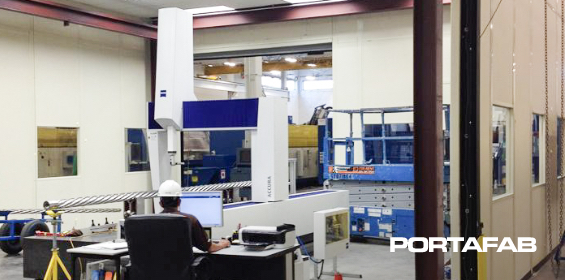 Case in Point #1
A major manufacturer of equipment for the oil and gas industry required the relocation of an existing CMM enclosure alongside the installation of a second new enclosure. This construction required:
Quick roll-up doors for safe entry of large scale equipment.
Proper environmental control throughout the enclosure.
Integration with existing bridge crane for proper handling of heavy equipment.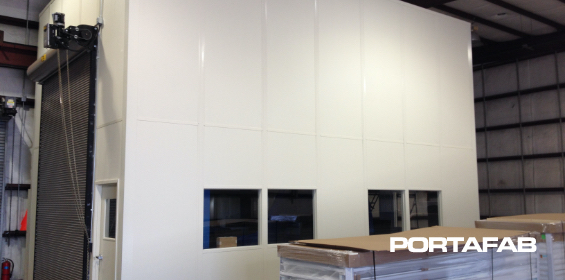 Case in Point #2
A world supplier of technology, required the construction of a new controlled environment to enclose and protect their CMM equipment and processes. The construction required:
Steel surfaces for easy cleanability and reduction of particulates.
Temperature and airflow control to ensure reliable testing.
XTRA-TALL walls and roll-up doors for easy movement of large equipment.
Photo Gallery