The major components of PortaFab Modular Office Systems are stretch wrapped to minimize the chance of damage or loss and reduce the hassle and expense associated with freight claims and project delays.
All materials are shipped F.O.B. factory, freight collect. Consult your carrier for rates.
Office systems are shipped "K-D" Class 70 truck freight.
Pre-assembled buildings like our guard booths are shipped Class 150 for truck freight east of the Rockies and Class 200 west of the Rockies. Buildings may ship on a flat-bed or closed van. Please specify.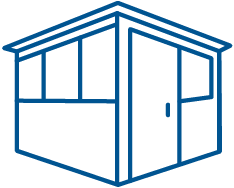 How to Unload a Shipment

Off-loading from a Closed Van
In order to unload a modular office or K-D exterior building from a closed van, PortaFab recommends using either:
Forklift with 4' or 6' forks and minimum 5,000 lb. capacity
Electric flat-jack
Depending on the length of the skid, which can very from 8' long to 12' long, the forklift or flat-jack will either be able to lift the entire skid or drag the skid.
Roof deck material will be sent in a bundle strapped together. The typical bundle will measure 36" x 144" (maximum) by the depth of the material. The roof deck will have wood blocking strapped underneath and above the deck for support and access with forklift forks. Structural steel beams, columns, and angle would also be sent in bundles which should be carefully removed from the truck.

Off-loading from a Flat-bed
In order to unload a pre-assembled building or structural steel off a flat-bed truck, PortaFab recommends using:
Forklift with 6' forks and minimum 5,000 lb. capacity
Crane (if shipment is designed with lifting rings

Returning Goods
In order to return materials to PortaFab, we require the following:
Customer must contact a PortaFab representative at least 24 hours prior to shipping materials back to PortaFab to receive written authorization to return goods.
A Return Goods Approval number will be assigned to this return shipment and must be labeled clearly on the goods being returned
All materials must be returned with freight charges pre-paid
The credit amount will typically be the invoice total less a minimum 25% re-stocking charge. Special items are not subject to return

Notes
If you must drag the skid, make certain there are no obstacles in the pathway which could latch onto the skid and pull it off the forks.
If materials are damaged upon return, the distributor will receive credit for the re-usable materials only.
If returned materials are received damaged due to freight, a freight claim must be filed by the shipper. PortaFab will credit the distributor on the re-usable materials only and the truckline will reimburse the distributor on the damaged materials.
Distributor may not receive a credit or may incur additional charges on any special purchased/manufactured items.