Any area where lasers are used needs to be partitioned from the rest of a facility for safety reasons. However, sometimes building fully enclosed laser rooms is not an economical decision because it means rerouting HVAC duct work and running new electricity.

Industry Standards
Laser enclosures can also be made with industrial wall partitions. The partitions meet the industry's standard 5lbs per lateral load for walls over 60 inches.
OmniFlex Wall System
Integrating with the OmniFlex wall system, the steel free standing wall supports can be installed virtually anywhere without needing to integrate with a load bearing wall.
Customizable
And the wall partitions can be customized with almost any panel type to help meet the standards needed for the specific laser enclosure.

Case Studies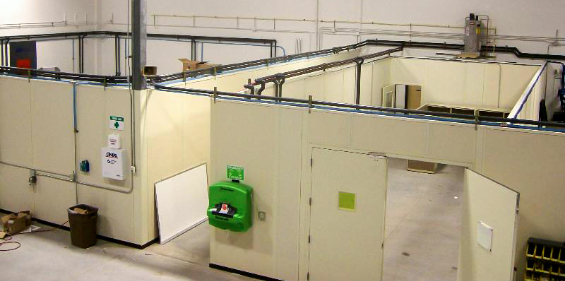 Case in Point #1
The client required the construction of a structure to house their laser workstations, which would serve as a protective barrier for personnel outside of the enclosures from the laser process. To meet their requirements, PortaFab delivered the following:
Walls made of fire retardant materials
An open design that could utilize existing lighting and sprinkler systems
Laser safety glass windows where required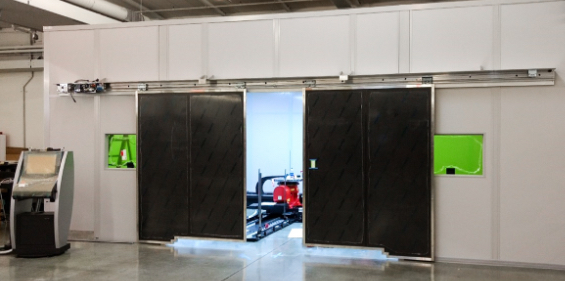 Case in Point #2
In an effort to help this manufacture of laser equipment provide a deployable, modular enclosure as part of the package they supplied their clients, PortaFab's engineering team worked with the client and dealer to developed a design that would accomplish its goals.
Custom fabricated 2 ½" thick walls to accommodate the client's custom ½" safety panel required for the enclosure.
Engineered the integration of client-supplied, 15' x 9'2" top hung sliding doors.
Provided special framed cutouts to account for specific process penetrations.