Freestanding Wall & Office Partitions
PortaFab's OmniFlex wall system integrates with the free standing wall support component to create self supporting walls virtually anywhere. And meeting the 5 lb. per lateral load requirement for walls over 60", these walls are sturdier than standard office wall partitions and can stand up to wear and tear.
For office or industrial spaces, free standing walls can be more effective than traditional walls for a variety of reasons including:
Reduced installation time and less disruption to work space as compared to traditionally built walls.
Reduced cost and materials.
Integrates with existing light and HVAC designs.
More durable than traditional office partitions.
Some common applications include:
Plant separation or manufacturing cells
Energy efficient inplant offices
Commercial office space definition
Bulletin boards
Laser rooms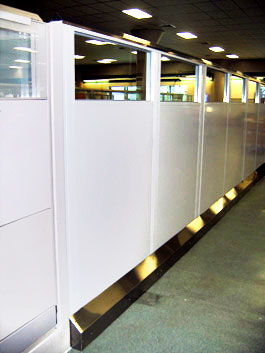 The freestanding wall support is the anchor for any free standing wall partitions using the OmniFlex system. This base plate connects floor tracks that support the wall with floor anchors and the OmniFlex support columns.
The freestanding wall support is easy to install and enables companies to create walls that are not anchored to any existing load bearing walls.
Read about some unique applications for PortaFab wall partitions.