Inplant Offices
PortaFab's modular inplant offices provide facility owners with unlimited flexibility to respond quickly and cost-effectively to changing business needs.
Increase Productivity & Communication
Our inplant offices enable important team members to be on the floor with manufacturing and assembly operations. Many companies are choosing to move engineering and operations employees closer to manufacturing areas to reduce costs and increase exposure and communication between these important groups.
Enhance Operations
Modular inplant offices also provide an effective way to expand office space within the existing footprint of a property. By building with modular materials as opposed to traditional construction methods, there is minimum disruption to the existing plant operations.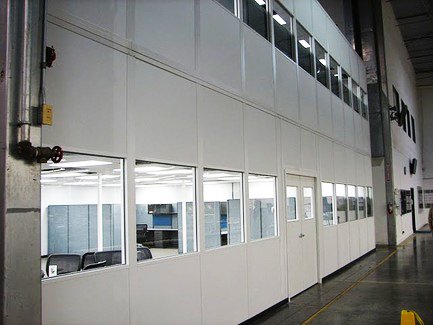 This 2-story inplant office utilized vertical expansion to save space within the facility, while placing supervisor offices near the manufacturing floor to enhance operations.
Structural Integrity
The heart of any inplant office is its framing system and our OmniFlex leads the industry. Its stud sections physically connect back-to-back providing the strongest load bearing system on the market. The unique double layer steel studs provide more strength at a lower cost than single layer studs and the rolled ends reduce tear risks during assembly.
Ease of Expansion
Because of the flexibility of modular construction, if the space needs to be expanded, renovated, relocated or minimized in the future, the features can be reconfigured instead of needing to completely rebuild the space.
5-Day Shipping for Standard Sizes
Evaluate our "Quick Ship" program that capitalizes on our integrated modular system design and interchangeability of parts so that we can ship 80% of our in plant office orders within 5 days. From 8x8 to 20x40, PortaFab offers 30 different sizes which can be delivered within 5 days of your order.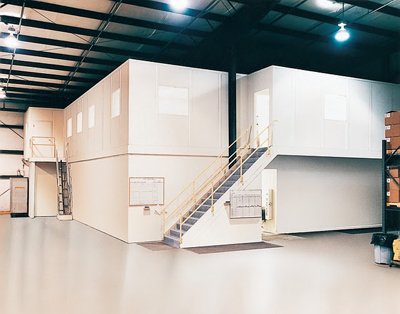 This manufacturer utilized PortaFab systems to create inplant offices due to their flexibility and ease of future expansion. Read the case study.
View our Standard Quick-Ship Modular Office page for more information.


Looking for a Price Quote?
Interested in a custom price quote for a new inplant office? Click below to submit your inquiry to one of our modular office sales managers and they will respond quickly to your inquiry.
Inplant Office Photo Gallery
Review our photo gallery below for more applications and benefits of utilizing our modular systems to create inplant offices. Be sure to check out our modular offices page for more information on our modular systems and their capabilities.