Modular inplant offices are a type of prefabricated building that is designed to be easily installed within an existing industrial or commercial space. Our modular office spaces provide a convenient and cost-effective way to add additional office space to a facility without the need for extensive construction work.

Respond to Changing Business Needs
Modular inplant offices are a convenient, cost-effective, and versatile solution for businesses that need to add office space to their existing facilities. They offer a quick and easy way to create a comfortable and functional workspace, without the need for extensive construction work.
They can be customized to meet the specific needs of each individual business, with a wide range of sizes, configurations, and features available. This allows companies to create office spaces that are tailored to their specific needs and requirements, without having to compromise on quality or functionality.

Increase Productivity and Communication
Our inplant offices enable important team members to be on the floor with manufacturing and assembly operations. Many companies are choosing to move engineering and operations employees closer to manufacturing areas to reduce costs and increase exposure and communication between these important groups.

Enhance Operations
One of the key benefits of modular inplant offices is their ability to be quickly and easily installed. Because they are prefabricated off-site, they can be delivered to the location and assembled in a fraction of the time it would take to build a traditional office space from scratch. This makes them an ideal solution for companies that need to add office space quickly and efficiently.
Structural Integrity
Modular inplant offices are also highly durable and long-lasting. They are built using high-quality materials and construction techniques, and are designed to withstand the rigors of industrial environments. This means that they are able to provide a comfortable and functional workspace for many years to come, with minimal maintenance and upkeep required.

Ease of Expansion
Because of the flexibility of modular construction, if the space needs to be expanded, renovated, relocated or minimized in the future, the features can be reconfigured instead of needing to completely rebuild the space.

"Quick-Ship" Inplant Offices
Inplant Offices in 5 Days
Our popular "Quick-Ship" program capitalizes on our integrated modular system design and interchangeability of parts which allows us to ship 80% of our inplant office orders within 5 days of order approval.
30 Standard Sizes – from 8' x 8' to 20' x 40'
8' or 9' wall height
2 Standard Colors – Gray and White
Numerous door, window, HVAC and other options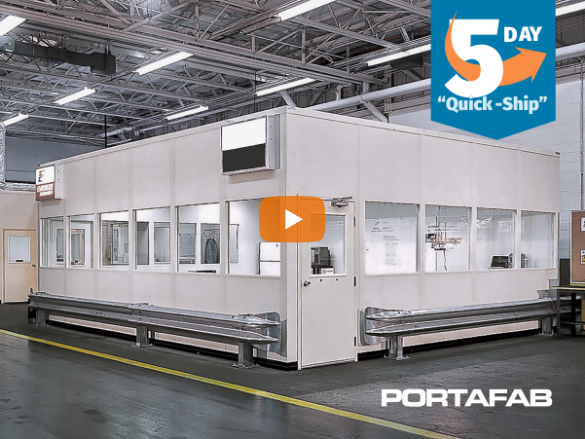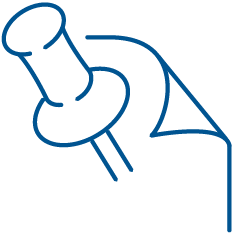 Case Studies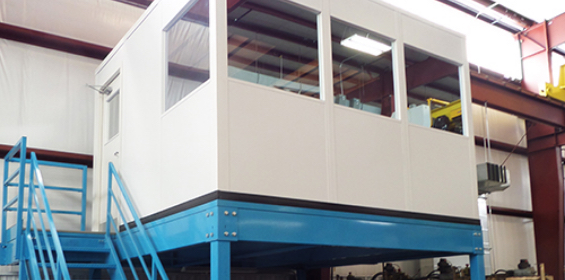 Case in Point #1
Griffin Tool specializes in the design and fabrication of trim dies for the die cast and foundry industries. In order to properly supervise the manufacturing processes at their plant, our client required the installation of a new supervisor's office at their facility in Stevensville, MI.
Upon visiting the facility, our dealer walked the site with the client in order to identify an area in which to install the inplant office while ensuring its location would not affect the existing work flow of the already busy plant. After securing a location, our distributor also discussed the incorporation of a mezzanine on which to install the inplant office, giving the plant supervisor an elevated view of the manufacturing processes.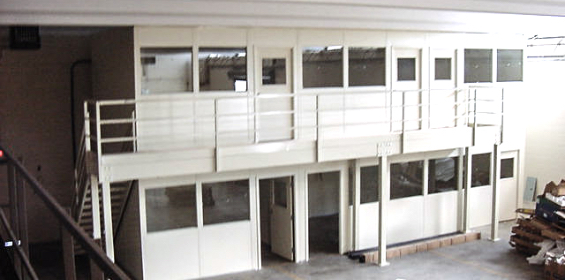 Case in Point #2
The Air National Guard required the creation of a new structure within their existing facility to house classrooms, conference rooms, offices and space for ongoing physical fitness training. PortaFab worked with our distributor to coordinate the integration of each space and its intended use. Modular systems are considered "equipment" by the government, which provides funds for new equipment purchased for military use. Based on this work, our distributor provided their client with brand new office space and training areas for their team. The benefits provided:
2-story mezzanine with offices and training areas
Financial savings with modular construction
Ease of procurement
Integration of modular systems with mezzanine manufacturer
Photo Gallery