Dividing plant space into manufacturing cells with PortaFab's wall partitions creates defined areas while still maintaining one large space. Using wall partitions instead of fully constructed walls enables manufacturing facilities to utilize existing HVAC and lighting systems yet keeps individual areas contained.
Standard Weight
Industrial wall partitions need to meet the industry standard of 5 lbs per lateral load for walls over 60 inches. Many commercial partitions do not meet these requirements.
Fire Retardant
The materials used in commercial panels such as cloth are often not as fire retardant as desired for manufacturing, assembly or other manufacturing facilities.
Fire & Sound Partitions
PortaFab's wall partitions can be customized to be all steel or Fire and Sound partitions. These panels are designed to stand up to the conditions in an industrial facility.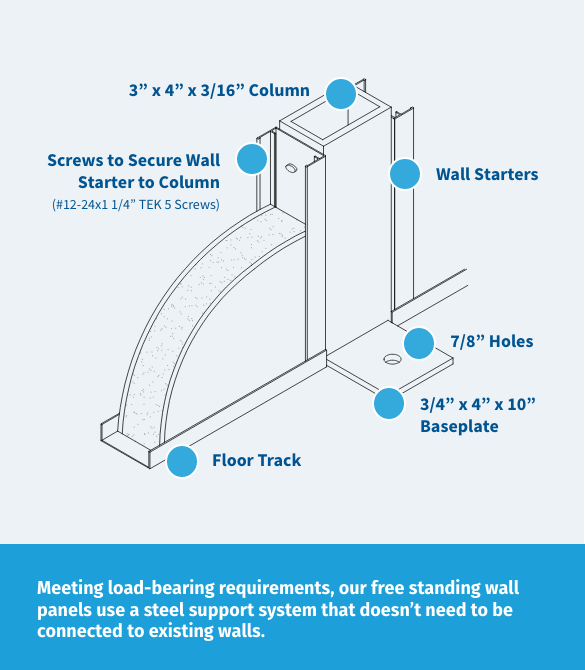 Manufacturing Cells - Implementation
With a vast variety of applications and customizable options, PortaFab's Modular Manufacturing Cells are perfect for sectioning off areas of a plant, warehouse, or manufacturing facility and creating a defined, unique space.
Freestanding Walls Showcase New Technology & Process
The stamping plant of an automotive company needed to establish a dedicated space that effectively divided and showcased a cutting-edge manufacturing technology. They required a self-supporting wall system measuring 10 feet in height, comprised of sturdy wall panels and glass, capable of withstanding the demands of an industrial environment. This innovative solution provided exceptional visibility, cleanliness, integrated doors designed for heavy equipment, and angled corners.