Our low energy fan filter units also consist of low sound and a low profile. The 170 watts filter unit uses less energy which results in lower operating costs. The units contain a three-speed switch feature on all 2 foot and 4 foot units.
Low Energy Consumption
The unique design and low noise level provides an affordable high efficiency air filtration system that delivers up to 800 CFM of ultra clean air with low energy consumption and low heat gain.
HEPA or ULPA Filters
The system is available with HEPA or ULPA filters and can be built to meet practically any electrical requirement.
---
Class 10 — Class 100,000
It is ideal for Class 10 through Class 100,000 cleanroom systems and available in various housing types and profiles.
Easy Installation
The tapered design allows easy installation and maneuvering into the ceiling grid and, once installed, the unit provides complete flexibility to control speed and operation of the unit from room side.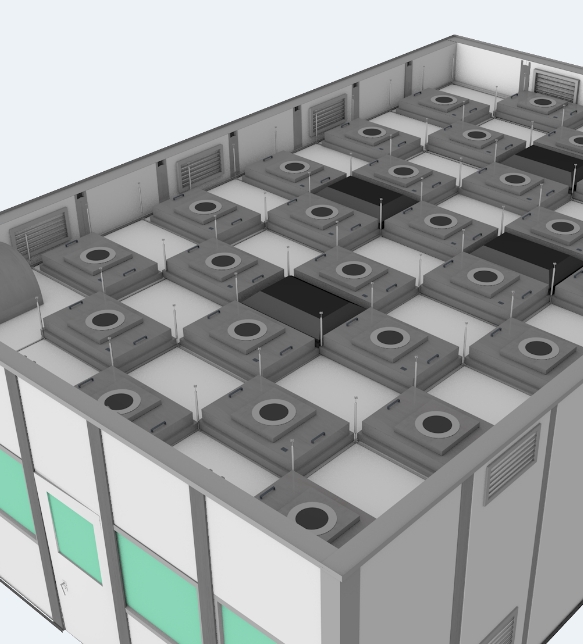 Low Energy, Low Sound, Low Profile
As one of the most innovative Fan Filter Units (FFU) available, this unit combines low watts, low sound and a low profile. The unit sound level is only 49 dBA, and by operating at 170 watts,it uses less energy, resulting in lower operating costs. Plus, the unit still measures less than 13 in. (330 mm).
Features and Benefits

Three-speed Switch:
Featuring low, medium and
high setting standard on all
2 ft x 4 ft (600 mm x
1,210 mm) units

Solid State Speed Control:
Standard on 2 ft x 2 ft (600 mm
x 600 mm), 2 ft x 3 ft (600 mm
x 905 mm), and 2 ft x 3.5 ft
(600 mm x 1,057.5 mm) units
Meets Latest IEST
Recommended Practices:
High efficiency particulate air
(HEPA) filter is standard
Snap-in Pre-filter:
No tools required
External Static Capability:
0.55 in. w.g. (138 Pa) external
static capability at 90 ft/min
(0.45 m/s) with HEPA filter
Walkable Plenum
(Excluding Prefilter):
Provides a durable and sturdy walking surface
UL Listed:
120 V, 240 V, 277 V
and CE marked (240 V)

Worldwide Applications:
Various sizes and voltages available Solid State Speed Control:
Available on the fan filter unit
2 ft x 4 ft (600 mm x 1,210 mm)
Room-Side Replaceable (RSR):
Gel seal filter element (available
on RSR and RSRE models)
Ultra Low Penetration
Air (ULPA) Filter:
99.9995% efficiency at
0.12 micron or larger
Airflow Indicator Light:
Allows external monitoring
of unit operation
A/C Collar (12 in.
(305 mm) Diameter):
Direct connection to air conditioning supply
Fluorescent Light:
Provides illumination with
minimal airflow disruption
Ion Bar:
Neutralizes static charges
below the HEPA filter

Exterior:
Painted or Stainless Steel
Power Cord:
Provides convenient plug-in connection for non-permanent applications
Challenge Port:
Permits convenient aerosol challenge and HEPA filter testing

Knife Edge:
Easy placement in gel
track ceiling grid systems
Sizes:
Custom-Sizes Available