Framing
The framework is composed of an extruded aluminum 6063-T5 alloy that eliminates rust and provides excellent structural integrity.
Base: 4" x 3" x 3/16" angle on most standard buildings (4" structural channel used on buildings larger than 8' x 12', units with no floors, and two-piece buildings).


Corner Posts: 3" x 3" x 3/8" grooved angle


Grooved Intermediate Tees: 3" x 2-1/8" x 3/8"


Top Angle: 2-1/2" x 2-1/2" x 3/16"
All structural components are certified welded at all intersections to create a unitized framework. No rivets, bolts, or other fasteners are used in the joining of the structural components. The result is a stronger building with no exposed fasteners to rust, crack, or detract from the unit's appearance.
Framework Colors
Each booth comes standard with the natural aluminum mill finish. Standard wall panel colors are Pearl Grey, Champagne, and White. The framework can be painted to match these colors or your desired color.
Standard Wall Panel Colors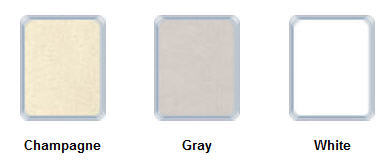 Extra Height
Booths can extend up to 108" tall by adding extra height to the panels. Pricing for all extra height increments is standard up to 108".