Superior Construction
Unlike many competing brands that utilize pop-rivets or other fasteners to assemble the framework, PortaFab booths feature an all-welded aluminum framework, safety glass windows and heavy-duty steel doors that are stronger and more capable of withstanding environmental conditions at job sites.
Structural Benefits
All aluminum construction eliminates rust.
Sturdy all-welded framing ensures structural integrity.
Unique assembly system has no exposed structural fasteners.
Quality materials and components assure long-lasting, maintenance free performance.
Height Options
Booths come in a standard height of 91" with an 82" interior height, but can be extended up to 108" tall.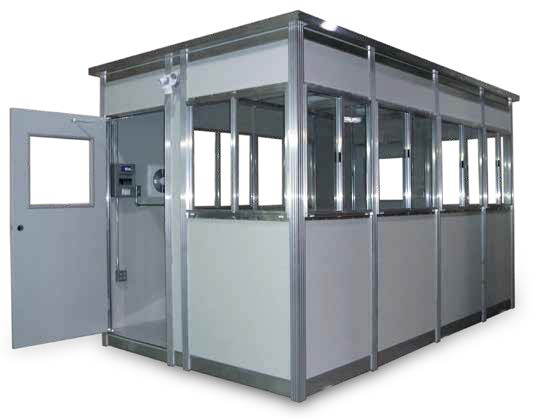 Specifications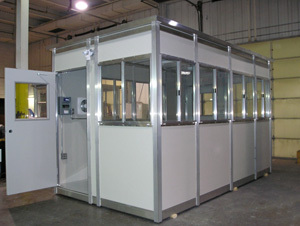 Base: 4" x 3" x 3/16" angle on most standard buildings (4" structural channel used on buildings larger than 8' x 12', units with no floors, and two-piece buildings).
Corner Posts: 3" x 3" x 3/8" grooved angle
Grooved Intermediate Tees: 3" x 2-1/8" x 3/8"
Top Angle: 2-1/2" x 2-1/2" x 3/16"
Color Options
Each booth comes standard with the natural mill finish aluminum framework, but can be painted in other colors as a special order.
Interior Convenience
From outfitting small parking attendant booths with shelves and cash drawers to developing preassembled buildings complete with bathrooms or offices, our engineering team can work with you to provide the interior elements you require.
Common Applications
Bathroom
Storage Closet
Interior Office
The construction of a bathroom typically includes the addition of an interior chase wall to house the plumbing.