PortaFab offers multiple ceiling options to meet the specific needs of virtually any application. From basic systems that provide a clean, cost-effective solution to more functional load-bearing and structural systems, our team can outfit your space with the best option for your needs.
Multiple Ceiling Grids
PortaFab's modular building systems satisfy the needs of a diverse range of applications by allowing the easy introduction of wiring, lighting, and HVAC capabilities through three different ceiling grids.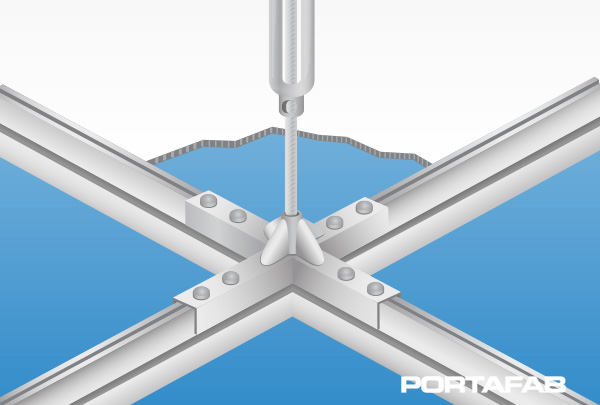 2" Gasket Grid
The 2" Gasket Grid cleanroom ceiling system combines flexibility and simplicity with the complete versatility of non-progressive construction to meet the ever-changing needs of today's businesses. The functional, stick-built system features a 2" wide structural grid system with aluminum extrusions and zinc die castings that accommodate standard filter modules, light fixtures and cleanroom ceiling tiles.
Layouts: 2' x 2', 2' x 4', or 4' x 4'
Finishes: Powder coat white or clear anodized finish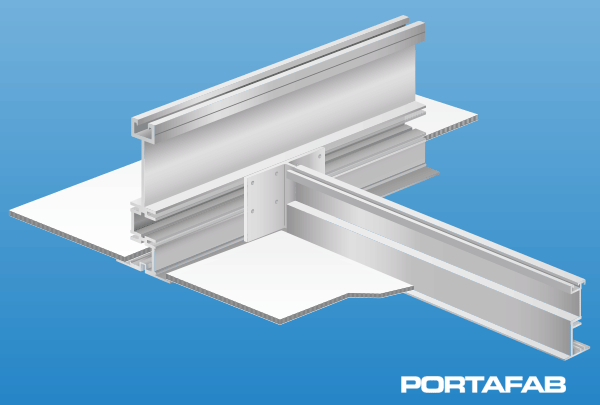 Structural Ceiling Grid
PortaFab's structural ceiling grid is ideal for applications in which relatively heavy items need to be suspended within the building. When compared to non-modular ceiling systems custom built with Unistrut, the PortaFab structural grid ceiling is typically more cost-effective and quicker to install.
Common applications include:
Data Centers
Grow Rooms
Softwall Cleanrooms
Medical and Dental Rooms
Ceiling Tile Options
PortaFab cleanrooms can be outfitted with a number of standard ceiling panels designed specifically for use in creating controlled environments.

Aluminum Composite Panels

Aluminum Honeycomb Panels

FRP on Gypsum

Armstrong Clean Room VL
Cleanroom Design FAQs: Cleanroom Ceiling Systems
We asked one of our most experienced cleanroom design partners for his thoughts on how to specify a cleanroom ceiling.