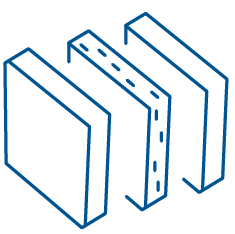 Mezzanine Flooring & Decking Options
Consists of one layer of 3/4" T&G, OSB (oriented strand board) installed over 1-1/2" deep gauge corrugated steel deck. OSB provides good resistance to foot traffic and can handle random wheel loads up to 300 lbs. The steel decking has a white underside to provide maximum light reflectance. Most economical selection for general storage and office applications.
Our professional design staff can assist you in choosing the correct mezzanine flooring for your needs. The following decks are our standard items; please contact us for other decking options.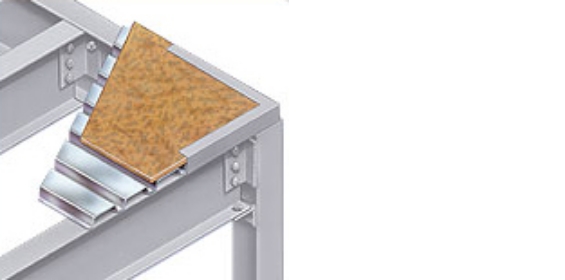 Bar Grating – 1" x 1/8"
A strong and economical alternative, bar grating allows for air movement, light, and water from overhead sprinklers to pass through deck surface. Nominal 1" x 4" opening. Black finish is standard. Also available in a galvanized finish. Should not be used for pallet jack applications.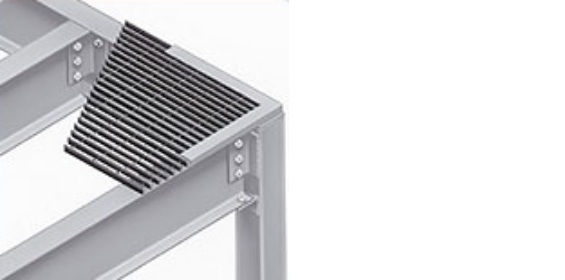 Steel Trade Plate Over OSB
Heavy-duty steel tread plate has a diamond embossed non-skid surface. OSB is 3/4" tongue and groove over a 20 gauge corrugated steel deck. Provides greater durability with higher point load and wheel load capacities.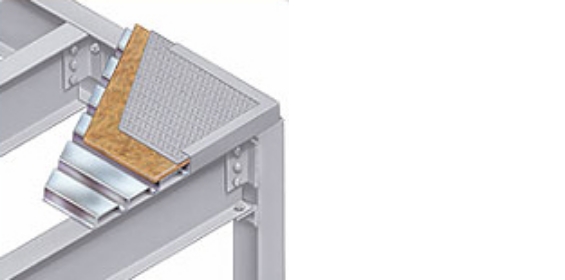 Steel Tread Plate Over 20 Gauge Steel Roof Deck
Mezzanine flooring designed for projects that will not allow combustible materials, 12 gauge steel tread is provided directly over the steel roof deck. Steel tread plate is diamond-embossed for a non-skid surface. Top surface of tread plate can be shipped unfinished or painted. White underside of decking for light reflectance.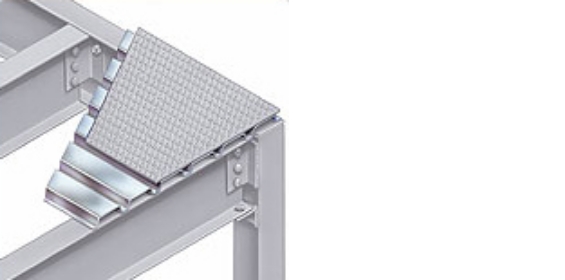 High-Density Composite Flooring Over 20 Gauge Steel Deck
Recommended for mezzanines requiring a solid floor subject to heavy loads from the use of pallet jacks, carts or dollies. Flooring has an acryseal skid-resistant, cleanable surface. Standard gray finish. Clear finish available at additional cost.
Wheel loads up to - 450 lbs., 900 lbs., 1350 lbs
Pallet jack & load - 1500 lbs, 2500 lbs, 4000 lbs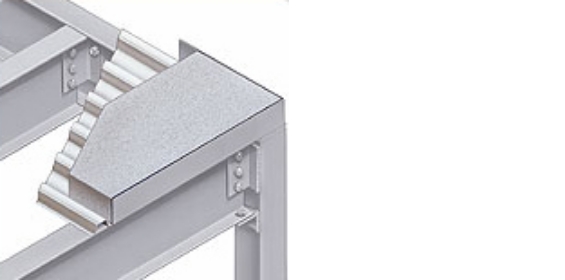 Concrete Mezzanine Deck
The strongest and most durable mezzanine surface available. Ideal when high point loading and capacity is required. Density minimizes transmission of noise through decking. Steel decking is provided with components needed to accept pour of 4-inch concrete floor.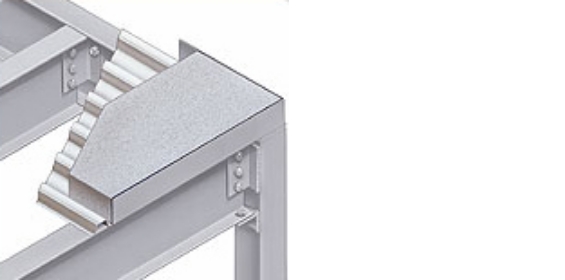 Paint Finishes
Standard Selection: Gray
Additional Colors:Yellow, Blue, Champagne, Green, White
Custom colors are available. Consult factory for details.