According to OSHA, "Any process or job site that is likely to raise the workers deep core temperature (often listed as higher than 100.4 degrees F or 38°C) raises the risk of heat stress." PortaFab Cool Down Booths offer a simple, cost effective solution to this common problem.
The Economical Alternative
In accordance with OSHA guidelines for heat stress, worker cool down rooms are an effective solution to help prevent heat-related injuries (heat stress, exhaustion, fainting or heat stroke, etc.) and are a much more economical alternative than trying to control the temperature of an entire warehouse or manufacturing operation.
OSHA Recommendation
"Provide recovery areas such as air-conditioned enclosures and rooms and provide intermittent rest periods with water breaks." Source OSHA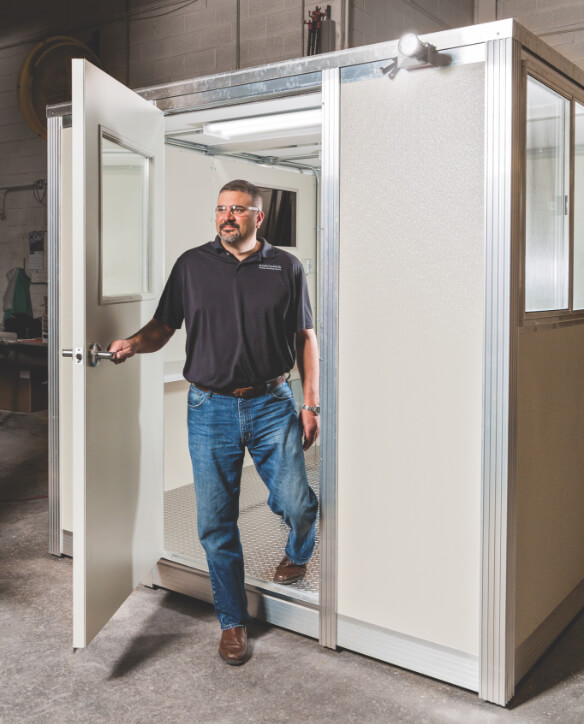 Year-Round Comfort
Booths can be equipped with insulated panels and wall mounted air conditioning or complete HVAC units to ensure the booth economically and efficiently maintains the desired temperature inside.
Insulated Walls
Insulated wall panels can provide additional protection from extreme temperatures.
HVAC & AC Units
PortaFab booths can be outfitted with a number of standard air conditioner and HVAC units. Wall mount AC units include: 8000 BTU–115V, 12,000 BTU–115V and 15,000 BTU–230V. AC and heater combo include 8,000, 11,000 and 15,000.
Exhaust Fans
Integrated exhaust fans provide a cost-effective method of circulating airflow and improving worker comfort.
Baseboard Heaters
For those wanting to convert the cool down room to a warm-up room in the winter, electric baseboard heaters can be surface mounted onto walls and integrated with the building's electrical system.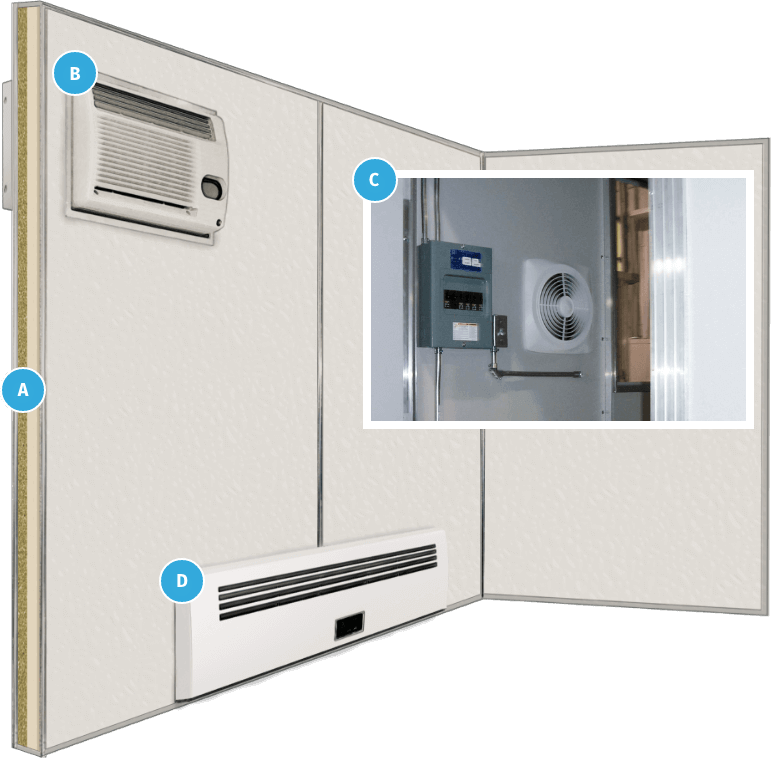 Cool Benefits
Attractive Workplace Perk
Boost Morale, Performance, & Productivity
Reduce Turnover & Increase Job Satisfaction
Prevent Temperature-Related Illnesses & Absence
Fulfill Union Agreements
Cost Effective vs. Cooling Entire Area (if even possible)
19 Standard Sizes
From 3' x 4' to 8' x 20'
PortaFab standard booths range from 3' x 4' to 8' x 20' as one-piece units. Custom sizes are also available. Larger sizes may require a two-piece design requiring some onsite construction.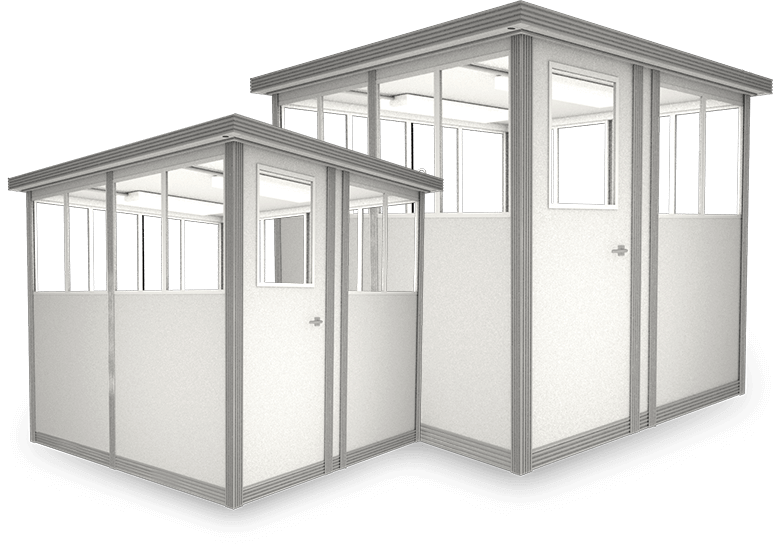 Additional Options
Modular Building Option
Indoor cool down rooms can be built using PortaFab's line of modular building systems. These rooms can be integrated with the facility's HVAC systems or use independent climate control systems.
You can choose from 30 standard "Quick Ship" buildings ranging in size from 8 x 8 to 20 x 40 or create a completely customized solution.