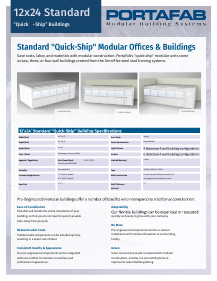 Save costs, labor, and materials with modular construction. PortaFab's 12' x 24' standard Quick-Ship modular units come as 4-, 3-, or 2-wall buildings created from our OmniFlex steel stud framing system.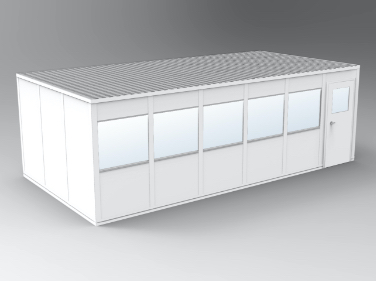 4-Wall 12' x 24' Building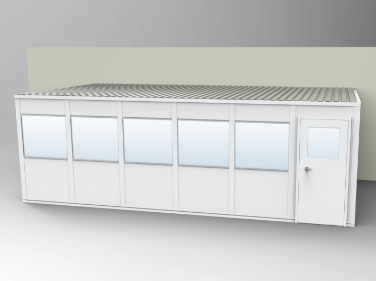 3-Wall 12' x 24' Building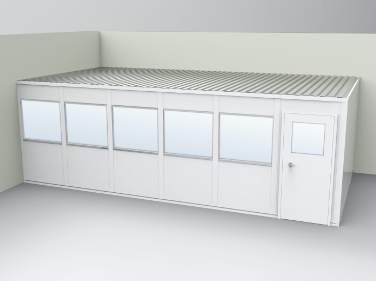 2-Wall 12' x 24' Building
Modular Office Features
Our complete prefab kits include everything needed for a basic modular inplant office. All models include the following:
Interchangeable Wall Panels (Fire & Sound Panels)
Acoustical Drop
Ceiling


Steel Roof
Deck


Framing: Wiring Posts, Corner Posts, Top and Bottom Channels
Connecting
Hardware


Pre-Hung Steel Door
With or Without Window
Wiring Posts: OmniFlex Steel (Gray or White)
Non-Progressive System


Galvanized
Floor Track


Vinyl-Base Interior and Exterior


Product Specifications
Width (Feet)
24' 4-1/2"
Door Style
Swing
Depth (Feet)
12' 4-1/2"
Frame Construction
Painted Steel
Height (Feet)
8' or 9'
Light Fixtures
4 (based on 4-wall building configuration)
Color / Finish
Gray or White
Outlets
6 (based on 4-wall building configuration)
Approval / Regulations
Fire & Sound Panel: R-11, STC-31 (Class A per ASTM-E84)
Limited Warranty
1 Year
Assembly
Unassembled
Type
4-Wall, 3-Wall or 2-Wall
Clearance Height Interior
7'6" with 8' panels
8'6" with 9' panels
Wall Construction
Fire and sound (F&S) panels with 1/2" vinyl gypsum on polystyrene core
Door Size
3' x 7'
Wall Thickness (Inches)
3"

Options for Quick-Ship Units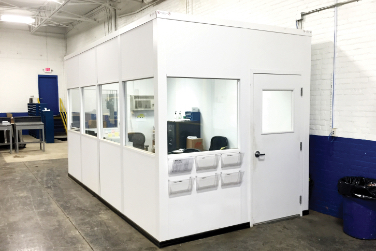 Doors
Steel Door Assembly
3070 - 20 Gauge Steel Door (Flush)
6070 - 20 Gauge Steel Double Door (Flush)
Glass and Threshold
1/4" Clear Tempered Safety Glass
Threshold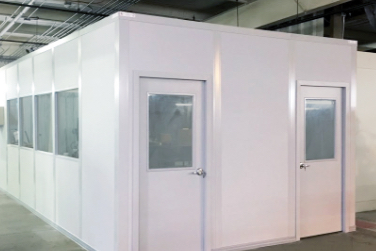 Door Hardware
Hardware
Lever Lockset (standard duty)
16" x 12" Door Louver
Door Closer
Kickplates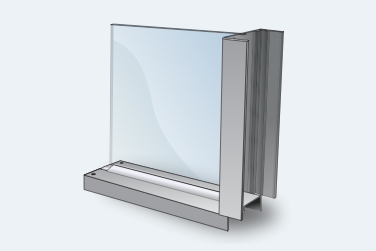 Window Assemblies
Fixed Window
4' or 2' nominal width x 3' nominal height glazed with 1/4 clear tempered safety glass
Sliding Window
3' x 3' nominal dimensions, installed in wall panel glazed with 1/8" clear
tempered safety glass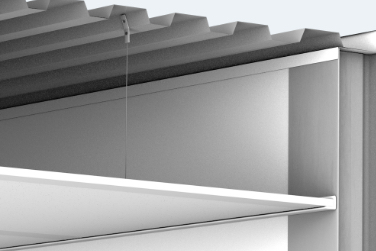 Roof and Ceiling Systems
Acoustical Ceiling
2' x 4' x 5/8" mineral fiberboard with white steel grid system
Ceiling Insulation
6" Fiberglass (R-19) (144 SF per roll)
Up to 12' Length Roof Deck
16' or 20' long dust cover support beam
12' Dust cover support angle (must be
used along all existing walls)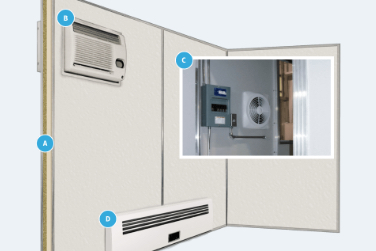 Climate Control
HVAC Units
11,600 btu cool/11,300 btu heat (230V)
Air Conditioning Units
Baseboard Heaters
Framed Cutouts
Installed or material only (size not to
exceed 12 l.f.)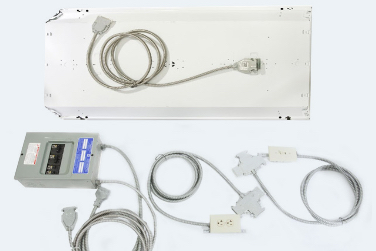 Electrical Components
Light Fixture
2' x 4' fluorescent (4-bulb) fixture, T8 ballast (bulbs not included)
Outlet or Switch
Outlet without Wiring (15V) OR switch without wiring (15V)
Circuit Breaker Boxes
4-Space, 6-Space, or 10-Space
Exhaust Fan
270 cfm ceiling mounted exhaust fan with fan, duct kit, & switch (louver in
door recommended for max air flow)
Modular Electric Packages
Modular Wiring
For even greater convenience, offices can be outfitted with a pre-engineered modular wiring system.
This system significantly reduces time and costs associated with new in-plant office installations by providing all the necessary electrical hardware in a convenient and pre-engineered "snap together" wiring system.