Vesta is a medical device outsourcing partner that delivers innovative solutions in molding, extrusion and assembly of devices and packaging for the medical industry. Our client required complete environmental control with ISO 8 validation in order to completely contain one of their manufacturing processes.
Project Overview
Application: ISO 8 / Class 100,000 Vestibule and Cleanroom
Products: Series 300 Vinyl Fire and Sound / Furring 500
Benefits Provided:
Minimal impact to facility during installation.
Environmental control for ISO 8 validation.
Coordination with construction trades for efficient construction process.
The Challenge
As this was an operating facility, our client desired a construction solution that would not impact the rest of the manufacturing processes within their facility. In response, our distributor educated our client about the benefits of utilizing modular systems, including a quick installation project with minimal debris, noise and a reduced number of trades - all resulting in a minimized effect on the surrounding environment during the installation process.

The Evaluation
Series 300 Wall System
The design plans called for use of our Series 300 wall system to build the enclosure by tying the freestanding walls into the existing roof structure. However, securing a connection to the existing roof proved to be a challenge due to the existing utilities, duct work and sprinkler pipes. Our installers overcame these obstacles by having the panels spliced at 10' tall (the ceiling height) and then by modifying the remaining 5-feet of panel for a secure attachment to the existing ceiling. The use of smooth white fiberglass reinforced plastic (FRP) Fire and Sound panels for the remaining 5-feet of wall panels were used for this portion of the system and proved to make this a fast and clean process.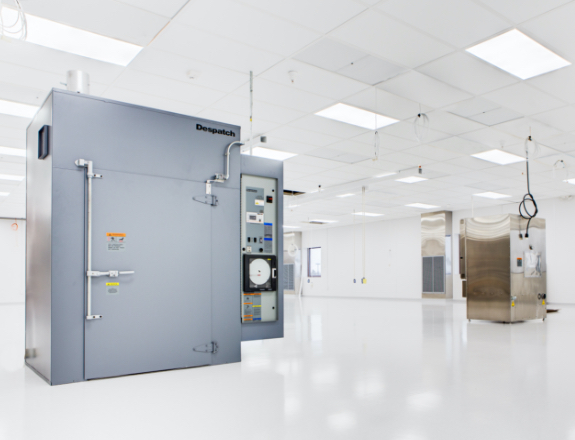 The Solution
Quick Installation with Minimal Disruption
Our distributor utilized our Furring 500 wall system with vinyl gypsum panels to construct the vestibule leading into the main cleanroom which was constructed with our Series 300 system and a combination of both vinyl Fire and Sound and FRP panels. Due to the chemical use and storage needs inside of the cleanroom, our distributor incorporated an aluminum framework and FRP walls to minimize corrosion during repeated wash down procedures. A combination high speed doors and impact doors were also incorporated into the design in order to minimize cross-contamination while also maintaining the required level of environmental control.
Our distributor made good on his recommendation of modular systems to accommodate a quick installation with minimal disruption by coordinating with all the trades throughout the project in order to keep the things moving and ahead of schedule.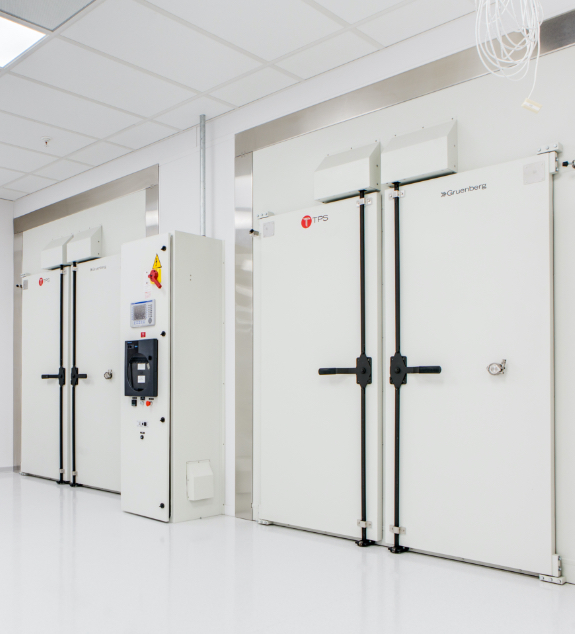 Photo Gallery