3" Aluminum Framing System
Our Series 300 wall system closely matches the performance features of our 3" OmniFlex system, but features an anodized or painted aluminum stud construction. The system is typically specified for use in cleanroom applications and spaces that need to comply with food safety standards or other industry guidelines.
Structural Integrity
The anodized aluminum framing system not only creates a modern, high-tech look, but the patented, aluminum studs physically connect to create one of the strongest load-bearing systems on the market.
Series 300 Stud Construction
The aluminum stud construction features a unique design that enables fast, easy assembly and provides quick access to wiring.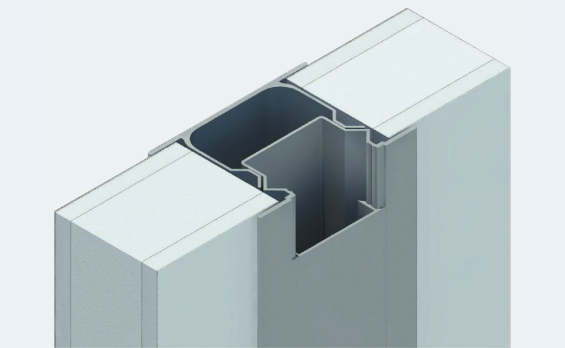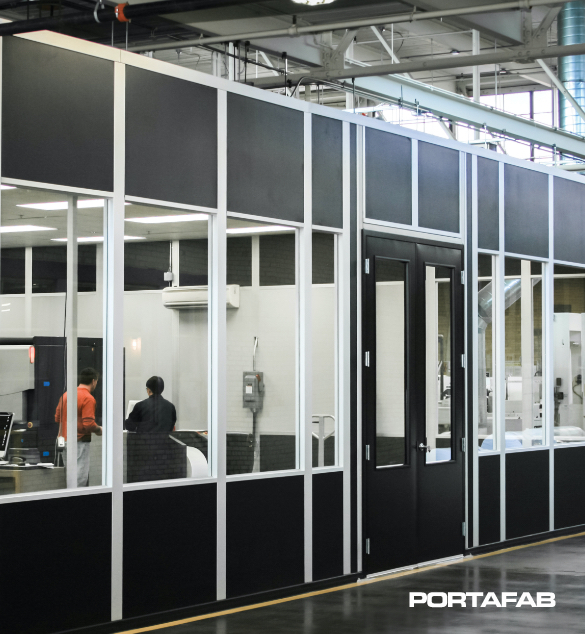 Modular Flexibility with Series 300
Non-progressive construction allows for the easy removal of individual panels without disturbing adjacent panels. Just remove necessary wall sections to move equipment into completed units and replace in a fraction of the time needed in a conventional built facility.
Easy to Relocate
When ever you change your plant layout, your modular building can change with it. Non-progressive construction makes it easy to expand, modify or relocate these units. So, you save time and money in the future, as well as on your initial modular building environment.
Professional Appearance
Color coordinated panels and doors can complement the anodized aluminum or painted framework to bring a professional "front office" finish to any inplant building. Standard panel colors are gray and white, but optional colors can be ordered.
Excellent Value
Series 300 modular buildings offer quality, appearance and cost savings that make conventional construction obsolete. They are completely re-usable so your modular building can grow with your business. You save time and money in the future, as well as on your initial investment.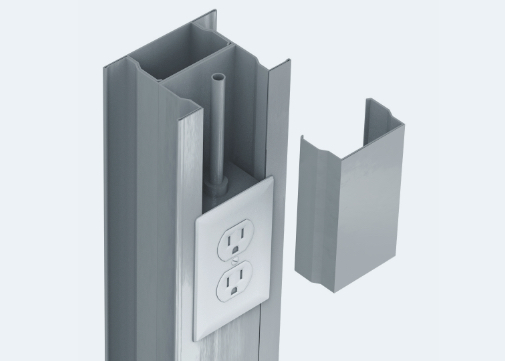 Wiring Studs
Removable "snap-in" cover plate allows for wiring capabilities on both sides of the stud and easy inspection of raceway.
System Integration
Component Integration
Specifications
Wall Panels
Compatible with a variety of standard and custom wall panels.
Thickness
3" thick wall panels.
Windows
4 standard window styles with a variety of sizes and glazing options.
Heights
Standard wall heights up to 18 feet.
Doors
Capable of integration with standard, roll-up, sliding and other doors.
Material and Finish
Galvanized steel with baked enamel finish.
Electric
Wiring raceway for easy integration of electrical, voice and data lines. Modular electric systems also available.
Wall Panel Colors
Standard colors are gray and white with matching trim and wall panels for a smooth monochromatic finish. Optional colors can be ordered.
Climate Control
Can be integrated with central HVAC systems, wall units or ductless systems.
Load-bearing
Yes
Series 300 Wall System for Cleanrooms
A Case in Point
The Series 300 wall system is often used for creating standalone units like this ISO 6 cleanroom for the microelectronics industry. The load-bearing roof supports HVAC equipment and provides easy maintenance access.