Formacore Curtain Wall Specifications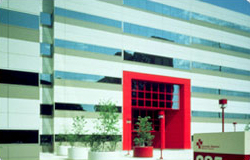 Formacore aluminum curtain wall panels meet the challenges of today's creative designers by using a unique composite design featuring an aluminum honeycomb core bonded to an aluminum face and liner. The result is a very flat and even panel with excellent peel strength and outstanding fire performance characteristics that weighs just 1 lb. per square foot. Available in a variety of panel edges, thicknesses and densities, it can interface anywhere in the curtain wall system as a spandrel panel, for soffits or fascia... in conjunction with glazing.
Module Dimensions
Aluminum Components
(Thickness)
Available colors
Joinery
Width
Length
Thickness
Core
Face
Liner
Std. PVDF colors and custom colors
Custom extrusion
48"
Up to 20'
1/4", 1/2" (custom thickness available)
¼" and
½" cell honey-comb
.040" and .060"
.020" and .040"
General Specifications
Architectural Panels
PortaFab Formacore Honeycomb Panels, sandwich panel with aluminum skins laminated with a structural adhesive to an aluminum honeycomb core.

Panel Thickness: Panel thickness as specified.

0.25", 0.50", 0.75", 1.00"; or
Specify custom panel thickness; or
Refer to drawings
Panel Materials and Fabrication
Face Sheet:

Aluminum Skins: ASTM B209, Aluminum Association specification sheet [3003-H14/3105-H14 for painted finish][5005-H34 for anodized finish].
Aluminum sheet thickness:

0.040" for coil coated or coil anodized finish; or
0.063" for spray painted or batch anodized finish.

Back Sheet:

Aluminum Skins: ASTM B209, Aluminum Association specification sheet [3003-H14/3105-H14 for painted finish][5005-H34 for anodized finish].

Aluminum sheet thickness:

0 .020" for clear conversion coating (mill finishes); or
0.040" for coil coated or coil anodized finish; or
0.063" for spray painted or batch anodized finish.

Core: 3003 aluminum alloy structure fabricated to form a hexagonal-shaped cell when expanded.

Commercial grade aluminum honeycomb (Per MIL-C-7438)
Specify cell size and thickness based on Structural Values Chart below:
3003 Aluminum Honeycomb Typical Property Values
Cell Size
Foil Gauge
Density (PCF)
Strength
(PSI)
Modulus
(KSI)
Strength (PSI) "L" Direction
Strength (PSI) "W" Direction
Modulus (KSI) "L" Direction
Modulus (KSI) "W" Direction
0.25"
.003
5.2
620
148
345
215
63
31
0.375"
.003
3.6
325
92
210
130
40
20
0.50"
.003
2.5
165
40
130
70
25
15
0.75"
.003
1.8
110
24
95
55
16
8
1.00"
.003
1.2
75
16
55
40
14
7
Tested at 0.625T
Finishes:

Coil-Coated or Spray-Applied Fluorocarbon Resin

Color: Selected by Architect/Engineer from manufacturer's standard colors.
Number of Coats: [2-coat][3-coat][4-coat].
Provide factory applied strippable plastic film for protection during fabrication and installation.

Coil Anodized Finish
Batch Anodized Finish

Color: Selected by Architect/Engineer from manufacturer's standard colors.
Film Thickness: Test Method ASTM B137; by weight.

Class I, 0.7 mils (minimum).

Provide factory applied strippable plastic film for protection during fabrication and installation.

Colors: As selected by the Owner from manufacturer's standard panel color. See Standard Color Chart.
Tolerances

Panel bow shall be a maximum 0.5 percent of panel dimension in width and length.
Panel dimension shall allow for fields adjustments, as recommended by manufacturer, where final dimensions cannot be established by field measurement before completion of panel manufacturing.
Panel lines, breaks, and angles shall be sharp and true, and surfaces shall be free from warp or buckle.

Panel Edge:

Cut edge panel (unsealed); or
Formed edge pane (unsealed); or
Formed edge panel with caulked and sealed edge