Composite Panels
PortaFab manufactures composite panels for applications as diverse as skyscraper curtain walls to cleanroom enclosures. The use of these panels is growing in popularity due to the fact that they can achieve significantly higher strength-to-weight ratios than traditional solid panels.
By laminating durable surface skins to light weight core materials, PortaFab can produce extremely light weight panels that are very structurally sound yet meet specifications for flammability, thermal efficiency, sound reduction, and weather/chemical resistance.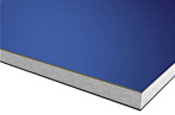 Choose from dozens of core materials, surfaces, and edge closeouts to create the perfect composite panel for your application.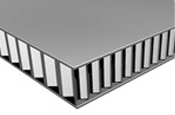 The ultimate solution for lightweight strength in a cost effective panel.