Modular cleanrooms are prefabricated, enclosed spaces that are designed to maintain a controlled environment with minimal contamination. PortaFab's modular cleanrooms are typically used in industries such as pharmaceuticals, biotechnology, and semiconductors, where it is crucial to protect sensitive materials and processes from dust, particles, and other contaminants.
Modular cleanrooms are built off-site in a controlled environment using high-quality materials and construction methods. They are then delivered and installed on-site, often within a matter of days or weeks. This allows for a faster and more efficient construction process compared to traditional cleanroom construction methods.
Benefits of Modular Cleanrooms
Common Modular Cleanroom Applications
Cleanrooms are essential in a wide range of industries where the presence of contaminants can have serious consequences. In the pharmaceutical industry, for example, cleanrooms are used to prevent contamination of drugs and other medical products, ensuring their safety and effectiveness. In the semiconductor industry, cleanrooms are used to prevent the buildup of dust and other particles on sensitive electronic components, allowing for the production of high-quality, reliable products.
Modular cleanrooms offer a convenient and cost-effective solution for creating controlled environments quickly and efficiently. They can be a valuable option for industries that require cleanrooms for their operations.

20 Standard Hardwall Cleanrooms
PortaFab's standard hardwall cleanrooms are the ideal solution where stand-alone cleanroom units are needed. These cleanrooms are available in 20 standard sizes and were designed to comply with ISO cleanroom classifications. Our standard hardwall cleanrooms utilize a single pass design and also features a load-bearing roof, modular wiring, and steel surface finish.

Three Modular Cleanroom Systems
At the heart of every modular wall system lies the metal stud framing. Not only does this provide the structural integrity for the entire office or enclosure, but it also makes the system relocatable, attractive, and easy to assemble and wire. With three different cleanroom wall systems, you can rest assured that PortaFab will find the right product for your application.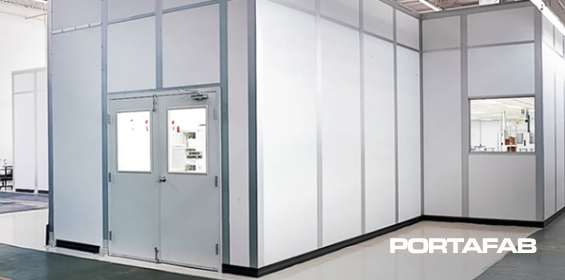 CleanLine
The CleanLine System represents our all-purpose solution for creating a wide variety of cleanrooms and environmental enclosures. It is designed for applications from ISO 4 to ISO 8 cleanroom environments, but can also be used for simpler applications.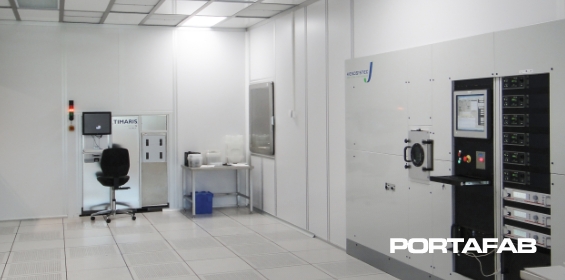 FabLine
FabLine Modular Wall Systems make it easier and more cost-effective than ever before to create ultra-clean facilities meeting the critical environmental conditions demanded in the precision microelectronics and nanotechnology industries.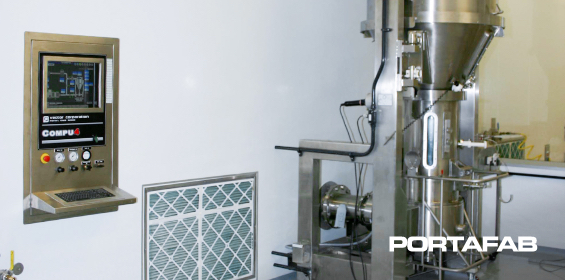 PharmaSystem
PharmaSystem is the ideal solution for creating cost-effective controlled environments in pharmaceutical, life science, and biotechnology facilities. This wall system is designed to meet the most stringent guidelines for cleanroom construction.

Modular Cleanroom Components
Modular cleanroom components typically include walls, ceiling grids, and air filtration systems. PortaFab's modular cleanrooms can also include a variety of other features, such as air showers, temperature and humidity control systems, and lighting systems. These components are designed to maintain the cleanliness of the cleanroom and ensure that it meets the required standards for cleanliness.

Experienced Cleanroom Manufacturer
PortaFab is a cleanroom manufacturer with over 40 years of experience that provides a level of expertise that is unmatched in the industry. With four decades of experience in designing, engineering, and manufacturing cleanroom systems, we have a deep understanding of the unique requirements and challenges of cleanroom environments. Our extensive experience has allowed us to consistently deliver high-quality cleanroom solutions that meet the strictest standards and exceed customer expectations. Whether you're looking for a simple controlled environment or a complex cleanroom system, we have the knowledge and experience to provide you with the ideal solution for your needs.

Distributors Throughout North America
700+ Certified Distributors
For over 40 years, PortaFab has provided turn-key cleanroom design and installation services for major corporations worldwide. Our staff of in-house engineers and cleanroom design consultants are an asset to architects and general contractors who lean on us to deliver functional and cost-effective solutions.