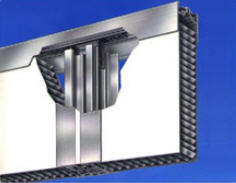 The FabLine Framed 2000 is the ideal wall system for cleanrooms requiring a flush surface on both sides of the wall panel. The 1.88" (50mm) thick walls are designed for applications with extensive gasketed bulkheading around tools. They can be easily removed from either the front or back without disturbing adjacent panels, ceiling or the framing post.
Features and Benefits
1.88" (50mm) wall panel utilized to allow flush wall surface on both sides
Ideal for environments up to a sub-M1 classification
Complete flexibility allows the wall system to be designed for any configuration
Removable battens allow easy panel access from either side of wall without disturbing adjacent panels, ceiling or framework for minimum contamination
Walls can be supported from the floor or ceiling to accommodate openings
Stud post and batten support the attachment of shelves and utility runs on wall face
Wiring stud post allows easy concealment of electrical and communication lines with modifying wall panels
Vertical and horizontal members are easily connected to accommodate equipment bulkheading
Floating headtrack available allowing for ceiling deflection and minimizing wall vibration
Interfaces with ceiling grid systems, flooring systems, existing modular wall systems and conventional construction for complete systems compatibility
Wall Panels
Panels are non-outgassing, non-particle shedding, and anti-static to protect against product contamination. Panel finishes provide chemical resistance.