Steel Sound Wall Panels
The Steel Sound panel excels in applications requiring a durable, easy-to-clean panel with excellent sound deadening properties including machinery enclosures, control rooms and hospitals.
Superior Sound Deadening Properties
Featuring a mineral wool core sandwiched between two layers of steel-faced gypsum, these panels provide both excellent sound and thermal control.
The mineral wool core provides helps this panel's sound deadening properties achieve an STC rating of 42 while the steel-faced gypsum layers add durability and the ability to clean easily.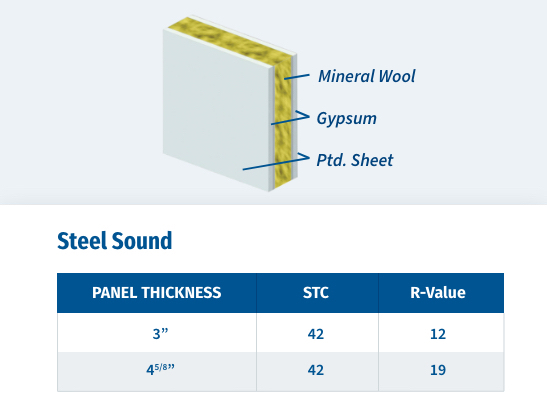 Key Benefits

Durable
The 24-gauge steel facing of the panels provides enhanced durability and longevity in industrial applications that require the walls to sustain repeated contact with personnel operating heavy equipment.

Superior Deadening
The core of the panel features thick mineral wool that is utilized to achieve the panel's high STC rating of 42. These steel panel are ideal for controlling high-noise environments requiring sound attenuating walls.

Easy to Clean
The steel, durable surface of the steel sound wall panels allows the easy cleaning of the surface. This feature makes the panel ideal for applications that include cleanrooms, hospitals, and medical product production enclosures.