PortaFab offers a complete line of indoor smoking enclosures and outdoor smoking shelters to assist companies and facility owners with solutions that enhance employee safety and satisfaction. Our shelters can help keep employees close to work stations or production lines and reduce down time.
Superior Construction
PortaFab outdoor smoking shelters combine the strength of a heavy-duty welded aluminum framework for long-lasting durability and an aesthetically pleasing design. The welded aluminum framing provides exceptional structural strength for years of trouble free service. Standard aluminum window frames stand up to the elements and the ¼" thick tempered safety glass resists breakage.
Shipped fully Assembled
The prefabricated units are shipped fully assembled (or knocked down) ready to install at the job site.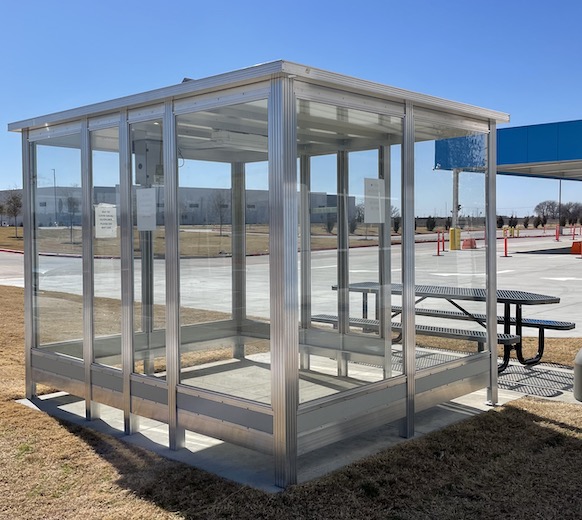 Keep Your Employees Safe with Solar Powered Light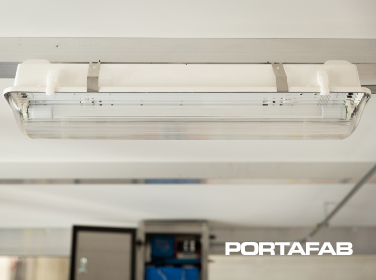 Lighting
Typical lighting includes ceiling-mounted, energy efficient fixtures that are suitable for environments where weathering, high temperature, humidity, or dust are present.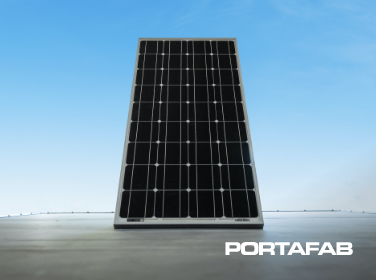 Solar Panels
Solar panels can be placed in virtually any area of the roof to power lights, fans or more.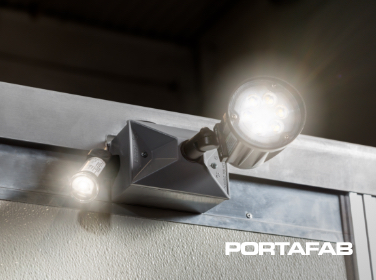 Specialty Lighting
Photocell-activated, dusk-to-dawn lighting can be added to enhance the safety of the area surrounding the shelter.
Features and Specifications
Smoke shelters can be custom configured to your exact specifications. They can be custom color matched to compliment existing surroundings and include optional doors, benches, lighting, climate control, ventilation systems, and more.
Wall Panels
Durable and weather resistant ½" Medex™ laminated with gray fiberglass reinforced plastic on both sides.
Ceiling
5/8" white vinyl-faced board with interior clear height of 89".
Roof
Units ship with a standard three-inch overhang on the exterior roof.
Windows
Anodized aluminum window frames with heavy-duty weather-stripped windows made from 1/4" thick clear tempered safety glass. Tinted, polycarbonate, and acrylic windows are available.
Electrical
When applicable, all conduit and wiring is surface mounted and installed along with a circuit breaker box to power lighting and ventilation systems.
Options
Smoking shelters can include benches, lights, ash tray/urns, exhaust fans, and ceiling mounted radiant heaters.
Need an Indoor Smoking Booth?
Pre-Assembled Smoking Booths
19 Standard Sizes
PortaFab also manufactures a full line of completed enclosed booths that can be outfitted with full electrical, HVAC, and ventilation systems. Standard booths range from 3' x 4' to 8' x 20'.