This leading manufacturer of pet food products needed to create a climate-controlled office and testing lab within its manufacturing facility for a production supervisor.
Project Overview
Application: Production Manager's Office and Lab - 12 x 24 with 9' Tall Walls

Product: "Quick-Ship" OmniFlex System with Vinyl Fire & Sound Wall Panels
Benefits Provided:
Shipped quickly - 5 day turnaround
Quickly installed with few workers required on site
Integrated climate control
The Challenge
The goal was to position the production supervisor and testing lab as close to the manufacturing operation as possible while limiting the noise inside the space and providing the climate control required for the lab. The client initially considered building with traditionally construction methods, but the time, cost and complexity involved, they chose modular.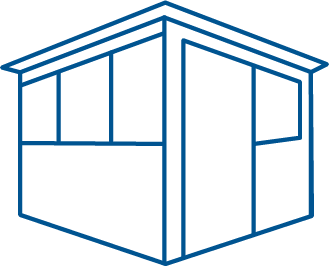 The Solution
Unlike traditional construction which would have required a large number of contractors onsite, PortaFab's "Quick-Ship" building could be installed quickly and inexpensively with minimal disruption to existing operations.
The PortaFab 4-wall "Quick-Ship" building shown here measured 12' x 24' and featured standard double doors. It was delivered quickly and PortaFab's regional dealer installed the office and lab in under 2 days.