Our client is a leading distributor of forklifts and provides warehouse solutions throughout the Western United States. As part of their service, they provide ongoing training and education for both their staff and clients. They required additional training room space, as well as a professional meeting room for the sales department to engage with clients in meetings, programs and events.
Project Overview
Application: Lower-level office for shipping manager, Upper-level conference/training room
Product: OmniFlex 300 – Two-Story System, Vinyl Fire & Sound Wall System
Benefits Provided:
Maximized space utilization with 2-story structure
Integrated large door openings to accommodate large equipment
The Challenge
The client needed to maximize space within an already-strained warehouse space. This required PortaFab and the client collaborating to capture precise field measurements.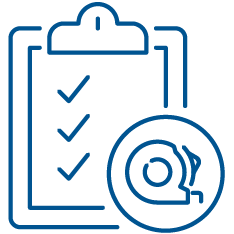 The Solution
As a distributor and valued partner with PortaFab, the client identified a PortaFab solution that captured their specific needs and showcased PortaFab's modular capabilities.
The resulting 2-story structure provided the valuable training and meeting space the client required based on their continued growth as an organization. Specific to forklift training and seminars, a 6' x 9' double door was incorporated into the design to accommodate product brought into the training room for demonstration. Built on the second floor, the sales meeting area sat under a roof structured to support mounted overhead projectors.