An industrial distributor needed to create multi-functional workspace for their warehouse team that included offices, a conference room, a client demonstration area and storage for heavy parts and materials.
Project Overview
Application: First floor office and conference space for the warehouse team and consumer product demonstrations, with second story storage of heavy parts and materials.
Product:
OmniFlex stud system with vinyl fire and sound panels
6" tall windows
Full glass steel door
Guard rail to protect the walls
12" x 36", 2-wall structure, 10" height wall
Benefits Provided:
Productive workspace in an appealing, windowed environment
Safe storage for parts and samples on a second story mezzanine
The Challenge
Create open, multi-functional office space in a warehouse environment with an existing outer wall and building flaws like uneven floors.
To integrate multiple suppliers and product systems specified on the project.
Follow local code requirements.
To match existing mechanical, electrical and plumbing systems from office space to newly created space.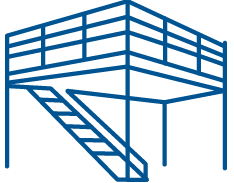 The Solution
When working with multiple suppliers on a project, sharing AutoCAD files and open communication allows for the proper integration of different product lines. PortaFab worked with the mezzanine supplier to properly install white, OmniFlex Fire and Sound vinyl panels to the underside of the mezzanine and column to column for proper load requirements. Together they ensured that the total system was plum and level even with existing uneven floors.
To enhance the open feel to the new office space, 6' tall windows and full glass, steel door were installed. A protective guard rail was also installed to fend off potential damage to the first-floor office space, conference room, and demonstration area for clients.