Hollow Cavity Wall Panels
PortaFab's Hollow Cavity wall panels feature vinyl hardboards with a painted steel exterior supported by a steel framework that yields a hollow cavity.
Durable, yet flexible
Hollow cavity panels offer some design flexibility over standard foam core and voidless panels for certain applications.
These wall panels are often specified when the design calls for a dedicated pathway for wiring or air flow channels to recirculate air in cleanroom applications.
They also offer superior non-combustibility for designs where foam panels are not ideal.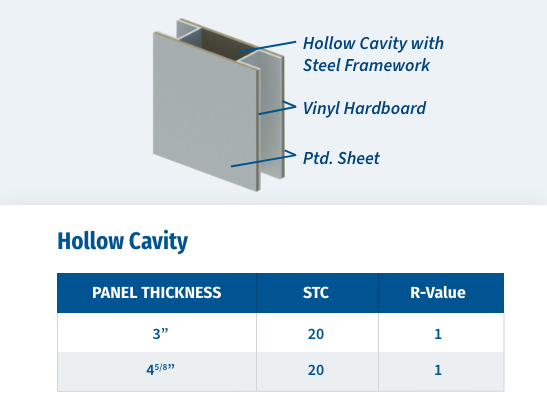 Key Benefits

Air Recirculation
The hollow core panel can be utilized as a return air panel in cleanrooms. This allows for a simplistic design for air recirculation in cleanrooms and applications requiring climate control.

Utility Raceways
The hollow core panel can also be used to create vertical unobstructed raceways for running utilities within the panel that may be too large to fit in the wiring stud. This provides tremendous flexibility and coordination of utilities.

Non-Combustible
The hollow core panel can also be used as an alternate panel when clients will not allow foam core products in their design criteria. This results in a completely non-combustible panel construction.