F & S with FRP Exterior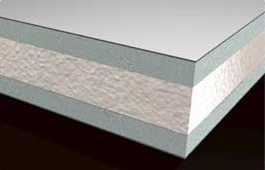 Panels with steel surfaces are ideal for areas subject to a significant amount of traffic or exposure to hand trucks, or other material handling equipment. These insulated metal wall panels come with a FRPl surface on one side and have excellent sound deadening and thermal insulating properties.
Standard Construction
Face: FRP .030"
Substrate: ½" gypsum
Core: Polystyrene foam
Back: FRP .030"
Features
High impact resistance
Class-A non combustible
Easy to clean surface that wipes free of dirt, grease, and oil
Saves installation time with one-step substrate/finish
Applications:
Manufacturing plants
Laboratories
Cleanrooms