Data centers inherently need updateable configurations that guarantee high security, clean environments, and minimal disruption to the operation. PortaFab provided secured storage enclosures, hot and cold aisle configurations as well as specialized walls to meet a variety of needs including variable levels of security and visibility.
Project Overview
Application: Data Center Rooms
Product: OmniFlex Freestanding Wall System
Benefits Provided:
Versatile systems that can be expanded, relocated, or reused, as well as include varying levels of security and visibility.
Decreased down time and minimal disruption as updates or alterations to the partitions are needed.
Maximized energy efficiency with temperature management and specialized configurations.
The Challenge
Create highly secure data storage areas that won't overheat or damage sensitive electronics and maximize energy consumption in the process.
Modify existing data storage areas with efficiency and limited downtime.
The Solution
Modular wall systems and components support energy efficiency with hot and cold aisle configurations. This set up reduces energy and consumption by funneling cool air into the server housing and hot air away from the servers while protecting its contents. Additional features, like full glass windows, support sales efforts with high visibility into the data centers, and locking system choices allow for varying levels of security.
PortaFab's data center partitions allow hot air to escape through the roof, which ensures previously cooled and conditioned air without compromising previously cooled and conditioned air. These walls easily integrate with existing floors and ceilings, and the system features easy-to-use c-channel brackets so expansion and alterations can be done quickly and with minimal disruption to the business.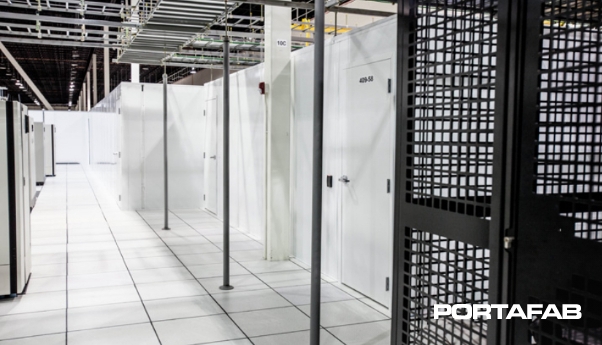 Photo Gallery