Our client is a tier supplier for the automotive industry. They required development of a training area within their facility for product demonstration, and additional office space for staff. Due to the lack of floor space in the front office area, the client searched for potential in-plant solutions and contacted PortaFab.
Project Overview
Application: 2-Story Office & Training Area
Product: OmniFlex 300, Custom vinyl faced wall panel with mineral wool core
Benefits Provided:
Diminished harsh noise levels within the enclosure.
Maximized warehouse space by utilizing vertical space.
The Challenge
The area selected for the office space was near the manufacturing process which created a lot of noise, non-conducive for a traditional office and training facility.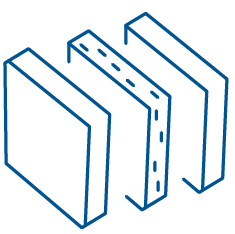 The Solution
PortaFab qualified the opportunity and collaborated with their local dealer for best solution. The dealer made numerous site visits and determined a strategic location to accommodate both needs. The dealer suggested using the load-bearing OmniFlex 300 wall system to create a cost-effective two-story building with customized wall panels for the best sound deadening attributes.
In addition to using sound-deadening wall panels featuring mineral wool cores, the lower level walls were built 12' tall to accommodate the equipment heights used for product demonstration while the upper level featured 10' tall walls.