Cleanroom Ceiling Grid
PortaFab offers two types of cleanroom ceiling grid that are designed to be used interchangeably with our other modular cleanroom systems.
2" Gasket Grid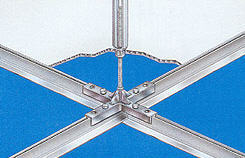 The 2" Gasket-Seal cleanroom ceiling grid combines flexibility with simplicity to meet the ever-changing needs of the technology industries.
This grid system offers the complete versatility of non-progressive construction required in most clean rooms. It is a functional stick-built system that provides a 2" wide structural grid system with aluminum extrusions and zinc die castings to receive standard filter modules, light fixtures and blank ceiling tiles.
Truly an engineered system for ease of installation, the system can be used in the following layouts: 2x2, 2x4, 4x4, and custom layouts.
1-1/2" Gasket Grid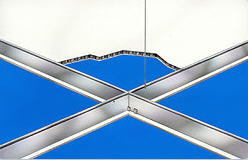 The 1-½" Gasket cleanroom ceiling grid is the perfect solution for diverse applications and industries, including:
Semiconductor
Microelectronics
Aerospace
Food service
Food processing
Pharmaceutical
Hospitals
This gasket grid system is designed with a 1-½" face tee to support HEPA filter systems and light fixtures. Installation is simplified with a clip assembly requiring no special tools for the attachment of grid components.
Choose from a wide selection of module sizes such as 2'x 2', 2'x 4', or 4'x 4'. CG systems are available in powder coat white and clear anodized finish.
Nationwide Cleanroom Installation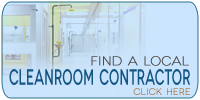 Our commitment to maintaining the highest quality standards extends to our national network of specialized cleanroom contractors. All of our contractors maintain the highest quality control programs to assure compliance with all critical standards. As independent contractors, they choose to work with PortaFab because our systems are the most cost effective products for constructing quality clean rooms.