Modular Offices & Inplant Buildings
When changes in your business create new demands for in-plant space utilizations, PortaFab's modular offices and in-plant buildings provide you with unlimited flexibility to respond quickly and cost-effectively.
Over 30 years design and manufacturing experience
Nationwide network of local dealers and installers
All the benefits of utilizing modular systems
Largest selection of modular systems and components for complete customization
Our popular "Quick-Ship" program capitalizes on our integrated modular system design and interchangeability of parts which allows us to ship 80% of our in-plant office orders within 5 days of order approval.
From 8x8 to 20x40, offer 30 different sizes which can be delivered within one week of an order. View our "Standard Quick-Ship" Modular Offices page to review all of our standard sizes and how to qualify under this program: Learn more.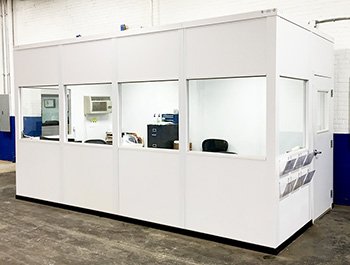 In addition to our line of Standard "Quick-Ship" modular office sizes, our modular building systems can be used in a variety of custom configurations to transform all types of spaces in an unlimited number of possibilities.
At the heart of every modular wall system lies the metal stud framing. Not only does this provide the structural integrity for the entire office or enclosure, but it also makes the system relocatable, attractive, and easy to assemble and wire. With 6 different framing systems, you can rest assured that PortaFab will find the right product for your application.
Regardless of the application, PortaFab either has or can custom build modular wall panels to meet all of your requirements. From simple office partitions to sophisticated clean room walls, we have the experience to design the perfect modular wall system for your application.

Standard Fire & Sound

Polyisocyanurate

Hardboard
Fiberglass Reinforced Plastic (FRP) Panels

Specialty Wall Panels
SteelSpan

Steel Panels

Aluminum Honeycomb Panels

Steel
Receive an Immediate Price Quote
Interested in a custom price quote for one of our modular buildings? Click below to submit your inquiry to one of our modular office sales managers and they will respond quickly to your inquiry.